We were finally able to try Il Padrino Coffee at Robinsons Galleria last month. Because we didn't know what to order, we trusted the suggestions of our food server. We had Italian White Pizza, Seafood Marinara and Margherita Pasta with Herbed Fish.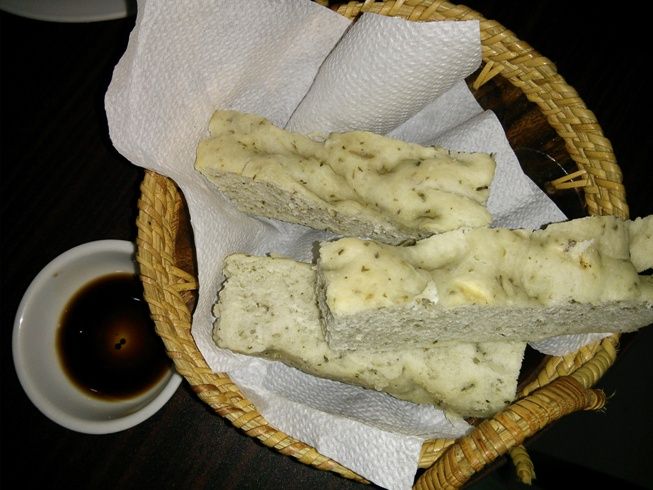 Complimentary focaccia bread with dip
While waiting for our food, we were given a small basket of focaccia bread with a dip (olive oil and soy sauce, I think). The bread was soft, and the dip made it more interesting to nibble on. Our son loved it!
Italian White Pizza (10"), Php290.00
Italian White Pizza
is pizza with cream cheese, mozzarella cheese, bacon, olives, garlic and fresh basil leaves. I loved the bacon and the cheese but not the olives. Hubby and son didn't like it much, so I think we'll have a different pizza next time.
Margherita Pasta with Herbed Fish, Php170.00
I was excited to try this
Margherita Pasta with Herbed Fish
, seared dory with Il Padrino's Mediterranean rub tossed in tomato, basil and mozzarella cheese and topped with parmesan cheese. The first few forkfuls were okay, but the taste became a bit cloying after a while that I wasn't able to finish all of it.
Seafood Marinara, Php180.00
This
Seafood Marinara
is shrimp, squid and fish fillet with pomodoro sauce, sprinkled with parmesan cheese. This was good! I actually liked this better than the Margherita Pasta with Herbed Fish. The pasta was cooked al dente with a generous serving of seafood in rich and slightly sweet sauce.
The prices of food at Il Padrino Coffee were quite reasonable, but we have yet to discover what we really like from their list of food offerings. We will only know that if we order other items on their menu next time.
Il Padrino Coffee
4th Level, West Wing
Robinsons Galleria
Quezon City