While Christmas is the happiest time of the year, it's also undoubtedly the busiest and craziest, too. Everyone's mind is preoccupied with myriad things: organizing annual family reunions, hosting barkada Christmas dinners or scouting for a sweet date spot to celebrate the joyful season with a special someone.
Indeed, Christmas is best spent with the entire family or barkada over festive meals, endless exchange of stories and unforgettable conversations. It seems, however, that one day isn't enough to do all of these, so how can we make the best of the holiday season? Kenny Rogers has the answer to that question. Take the hassle out of planning, shopping and preparing satisfying, deliciously healthy spreads for the family or the entire barkada with the new Kenny Rogers Holiday Feast.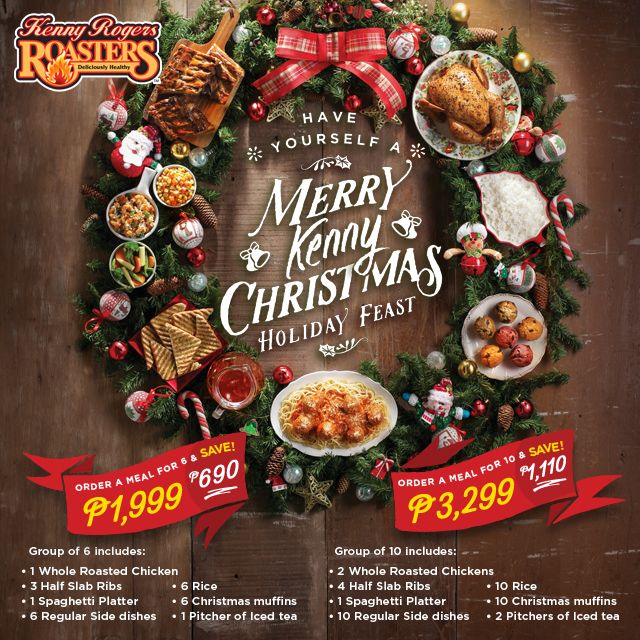 Perfect for both solo eaters and big groups of six or ten people, the
Kenny Rogers Holiday Feast
is specifically "curated" to deliver complementing flavors and textures. There's something for every member of the family,
barkada
and office team, thanks to the mouthwatering array of Kenny Rogers favorites like ribs, pastas, sides and a Christmas spin-off of Kenny's classic muffins: the
Merry Kenny Muffins
in Raspberry, Orange and Coffee Choco Chip flavors.
If you're a group of six people, you can opt for the P1,999 meal, which comes with one whole Roast Chicken or one bucket of OMG Unfried Fried Chicken, three Half-Slab Ribs, choice of Spaghetti or Carbonara Platter, six Regular Sides and Christmas Muffins, one bowl of rice and one pitcher of drinks. This set offers great value for your money as all this deliciousness comes priced at only P333 per person (total savings of P690!).
For a bigger get-together, you can choose the P3,299 meal, which is good for ten people. It includes two whole Roast Chicken or two buckets of OMG Unfried Fried Chicken, four Half-Slab Ribs, choice of Spaghetti or Carbonara Platter, ten Regular Sides and Christmas Muffins, two bowls of rice and two pitchers of drinks at only P329 per person – total savings of P1,110!
There's also the Holiday Plate (P399), a solo meal with a Quarter Roast Chicken or 2pcs Unfried Fried Chicken, Lasagna with Garlic Bread, Choco Mousse, choice of soup, muffin and a Regular Side.
How about giving your loved ones a Merry Kenny Muffin treat? The Christmas Muffins are available in boxes of six (P75) or twelve (P150).
With Kenny Rogers' new Holiday Feast, you no longer have to worry about which meal components will appeal to everyone in the family, barkada or office team. That's because Kenny Rogers has carefully put together a spread that allows customers to create moments for kwentuhan, catching up and laughter over heartwarming meals that will definitely make everyone's Christmas more joyful.
So what are you waiting for? Start creating memorable bonding moments today by sharing the Kenny Rogers Holiday Feast, available in all Kenny Rogers Roasters stores nationwide.