Our dear Nanay turned 60 last March 31, 2011. She underwent quadruple bypass last year, which was successful, and which was made possible through the help of family and friends. We wanted to give her a special birthday treat, and we decided to celebrate at Abe Restaurant at SM Mall of Asia last April 2, 2011.
According to ljcrestaurants.com, "Abe (ah-beh) is the restaurant dedicated to Larry's Cruz's father, the late artist-writer, gourmet and bon vivant E. Aguilar "Abe" Cruz. The restaurant serves traditional Filipino food, mostly of Capampangan origin, and gourmet dishes inspired by Abe's travels around the world."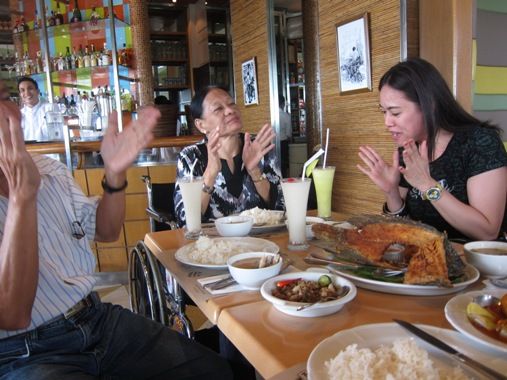 Singing Happy Birthday to Nanay
Sharing a bountiful feast for Nanay's 60th birthday
It was rather late, and we were all hungry, so we ordered a lot!
Binukadkad na Crispy Pla-pla, Php365.00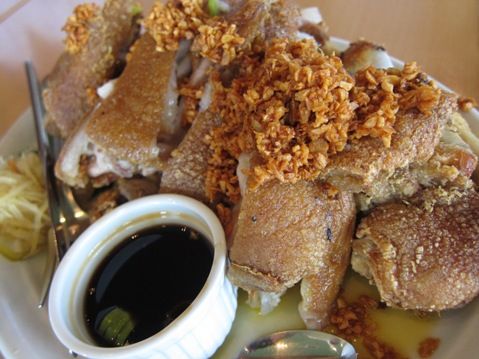 Knockout Knuckle, Php555.00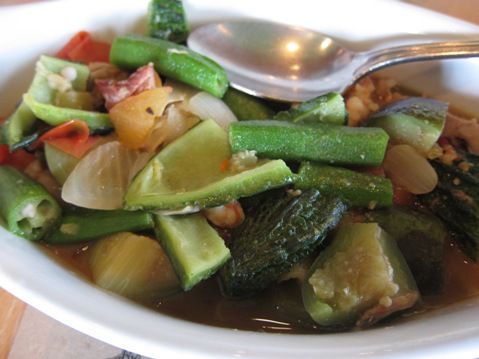 Pinakbet Wen Manong, Php265.00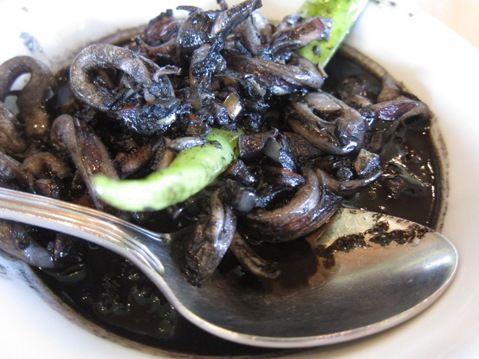 Calamares en su Tinta, Php210.00
Kare-kare a La Bistro Burgos, Php475.00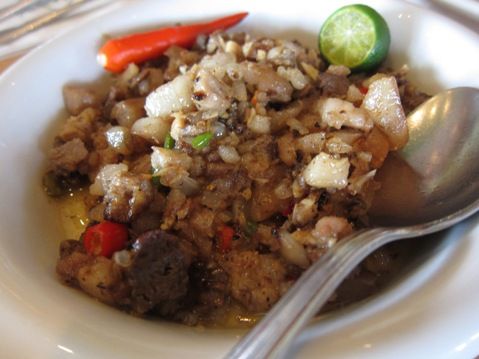 Spicy Sisig Pampanga, Php175.00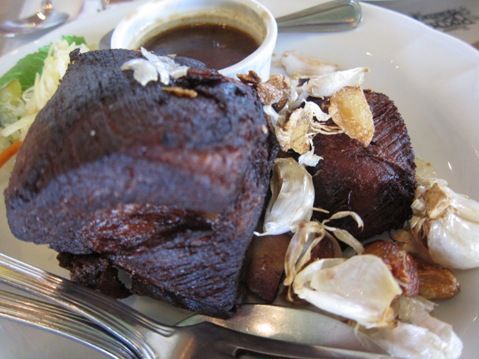 Lamb Adobo with Popped Garlic, Php385.00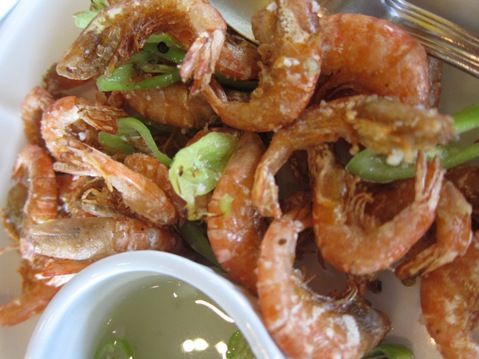 Crispy Shrimp Binondo, Php195.00
Because the server was quick to put our order of
Sinigang na Bangus Belly sa Bayabas
(Php395.00) in individual bowl soups, we failed to take a picture of that dish. And because there were 15 of us to partake of Nanay's birthday feast, we had to place two orders of six of the dishes we ordered. This simply proved that our family loves eating!
I wasn't able to taste the Calamares en su Tinta and the Crispy Shrimp Binondo; the two orders of each dish were gone in a flash. I found the Spicy Sisig Pampanga too spicy and the ampalaya (bitter melon) in the Pinakbet Wen Manong too bitter, but I ate them anyway. The Binukadkad na Crispy Pla-pla, Kare-kare a La Bistro Burgos and Sinigang na Bangus Belly sa Bayabas were what I liked the most.
The staff at Abe were all courteous and accommodating, the service was good, the food is okay, but the price was a bit stiff. We paid Php8,000.00 for everything we ordered, and we split that among the three of us (me, my younger sister and younger bother).
Happy birthday, Nanay! We love you!