When we can't decide where to eat out, we go to "safe" restaurants. What I mean by "safe" is we've already tried their food and we've enjoyed our visit, so it's perfectly "safe" to come back to these restaurants. In short, we're always getting our money's worth. Pancake House is one of the "safe" dining places in our list.
We had dinner at Pancake House at Robinsons Galleria one week day. We ordered Classic Pan Chicken (my favorite), Seafood Gambero and extra garlic bread for the little boy. For our drinks, we had Rootbeer Float, Grape-Apple Shake and Mocha Milk Shake.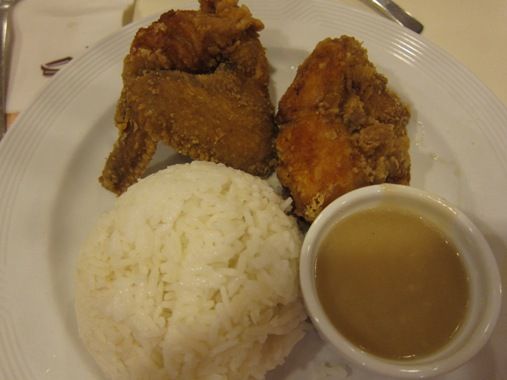 Classic Pan Chicken, Php170.00
When my son tasted the Classic Pan Chicken, this was all he wanted to eat, so we ended up sharing the two pieces of Classic Pan Chicken I ordered; we also had extra rice because he said "It's yummy, Mommy! Let's order this always, okay?"
Seafood Gambero, Php270.00
This is the first time hubby ordered this dish. He's so used to eating seafood pasta with spaghetti noodles, so it felt rather odd eating this, but he finished all of it anyway.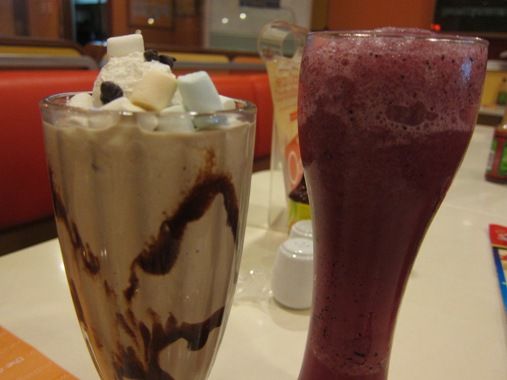 Mocha Milk Shake, Php160.00 and Grape-Apple Shake, Php135.00; Rootbeer Float not in the photo
I loved their Grape-Apple Shake, hubby enjoyed his Rootbeer Float, but the little boy didn't finish his Mocha Milk Shake perhaps because it was too sweet. He also doesn't like marshmallows, so hubby and I ended up scooping them out of his glass.
Pancake House is located on the 4th floor of Robinsons Galleria beside Pho Bac.