Kids love ice cream (even adults do!), and my son is no exception. It doesn't really matter to him what brand of ice cream he gets for as long as he satisfies his craving for this delicious, cool treat.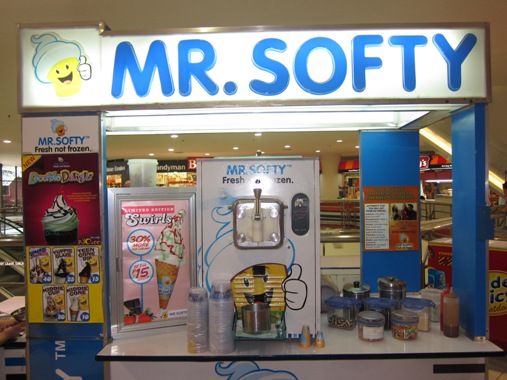 One time while inside Robinsons Galleria mall, my son said he wanted ice cream, and he pointed to the Mr. Softy stall nearby. I did not object because Mr. Softy ice cream is quite affordable. They also boast of "fresh not frozen" ice cream.
We initially wanted to have the Double Delight because it looks inviting for the mere price of Php30.00. Double Delight is "fresh ice cream twirl on a bed of moist chocolate cake with choco swirls topped with a luscious cherry." It wasn't available at that time, however, so my son settled for a Kiddie Cup instead, which only cost Php20.00. That's how much it took to make son happy! And that made me a happier mom, too!
Aside from the Double Delight and the Kiddie Cup, Mr. Softy also offers the following:
Rumble Crunchier – Php40.00
Yuppie Glaze – Php25.00
Teen Cone Dip – Php15.00
Kiddie Cone – Php10.00
Have you tried Mr. Softy ice cream?