We first dined at Bigby's in 2009, and we really liked their food. This made us consider Bigby's as one of our favorite places to eat. We were there last Saturday, and as usual, we had a very good time.
We had Tijuana Quesadillas and Belly Buster. The Tijuana Quesadillas came for free with a minimum purchase of Php600.00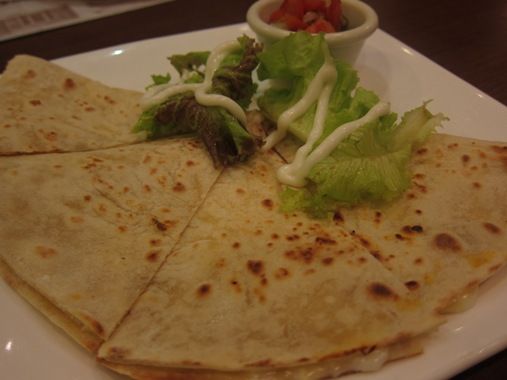 Tijuana Quesadillas (Plain Half), Php99.00
The ultimate hot and crisp flour tortilla with garlic and cheese, served with salsa fresca

Those who love cheese and garlic should really try this! They're yummy!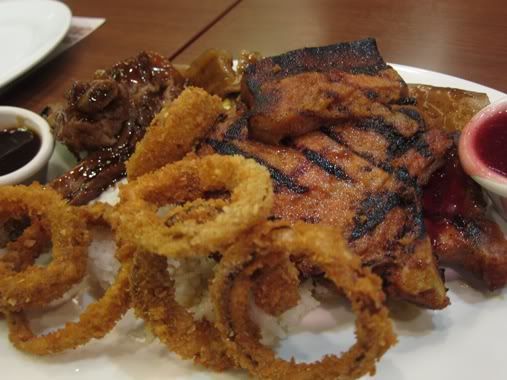 Belly Buster, Php595.00
The ultimate combo of Bigby's famous barbecued baby back ribs, grilled rodeo chops and smoky pork belly, served in one heaping platter with garlic rice, buttered vegetables and crispy onion rings
My son liked the onion rings breading, so I had to remove all of them, which left we with "nude" onion rings on my plate. LOL! He also had several spoonfuls of rice with pork, and I was happy that he really loved what he was eating. He even told me, "Mommy, the food is yummy! Let's eat here again, okay?"
I loved the smoky pork belly; it was tender, and the meat was so tasty. The grilled rodeo chops were delicious, too. It didn't take us long to finish what we ordered, and we all left the place feeling satisfied.
Bigy's Café and Restaurant
The Atrium, SM Megamall
Mandaluyong City
Telephone Nos.: (02) 706-5642