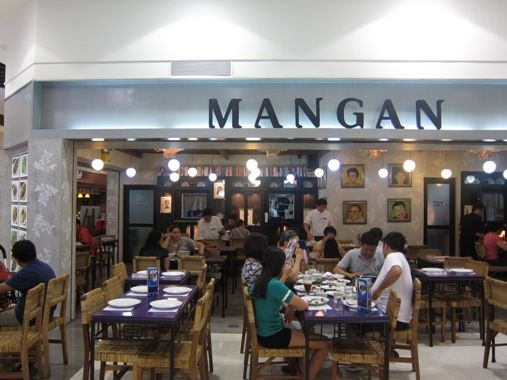 Last Saturday before watching
Harry Potter and the Deathly Hallows
, we had lunch at Mangan in Robinsons Galleria. "Mangan" in Kapampangan means "eat." Mangan serves authentic Kapampangan dishes and all-time Filipino favorites.
The complimentary camote fries kept us busy as we waited for our food.
Complimentary camote fries
We ordered Bulalong Baka with Mais and Crispy Hito with Burong Mangga and Burong Hipon.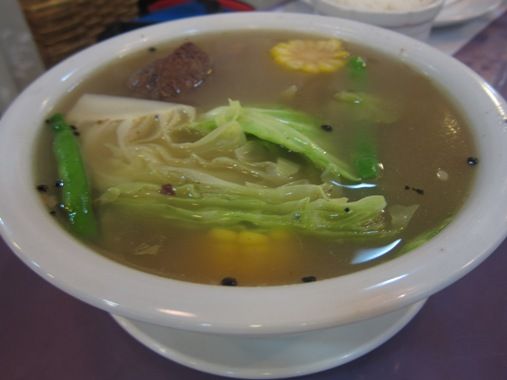 Bulalong Baka with Mais, Php350.00
Deep-poached beef shank with red onion, whole peppercorn, Japanese sweet corn and cabbage
The meat was tender and the broth flavorful, but we would have loved it more if it was served piping hot.
Crispy Hito with Burong Mangga and Burong Hipon, Php180.00
Deboned and butterflied catfish thread on a skewer fried into a crispy golden brown and embellished with fried garlic croutons on top and served with cane vinegar dip
Hubby had no patience for removing fishbone, so I wasn't surprised that he didn't touch this. I liked it, though, and I was the only one who ate the burong mangga (pickled green mangoes) and burong hipon (fermented shrimp in rice) that were served alongside this crispy fried fish.
Mangan
Level 2, Expansion Mall,
Robinsons Galleria
Quezon City
Telephone Nos.: (02) 687-4459; 636-1120