Exactly 23 years ago was when I last saw my high school classmate and friend Hilda; that was during our high school graduation. We never got the chance to see each other again in college because we were studying in different schools and even during our weddings because we totally lost contact with each other after our high school graduation.
Hilda and her husband Wendell, also our classmate, eventually went to Hong Kong to work; they now have two children, a boy and a girl. Last July 13, they went home to the Philippines for a very short vacation. I was really excited to see them, and I thought we we're going to have a mini class reunion. Their very busy schedules, however, made it impossible for more of our high school classmates to see both of them.
Last August 28, Hilda texted me asking if I was free to meet with her for lunch. I wasn't available on that date, but we agreed to meet the next day at Café Via Mare in Greenbelt 1. That was a very brief meeting, a little more than one hour, because it was her lunch break. She was taking a short computer course in a school nearby.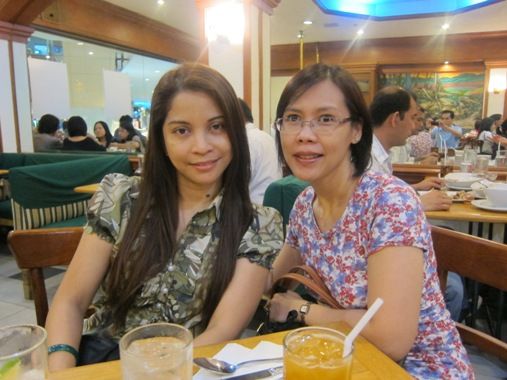 Hilda and Me
Her husband also came, and the three of us had a nice but a really quick lunch and chit-chat. And because it's their treat, I wasn't able to get the prices of the food we ordered, but I was able to take pictures of what we had for lunch.
Pork Liempo
Pork Liempo was Wendell's order. This came with the popular Ilocano dish
pinakbet
and
achara
(pickled green papaya). Wendell said this was okay.
Adobong Pusit
This is what Hilda wanted, and this came with vegetable roll. Hilda said she wanted her
adobong pusit
a little bit sour, and this was what's missing in this particular
adobo
.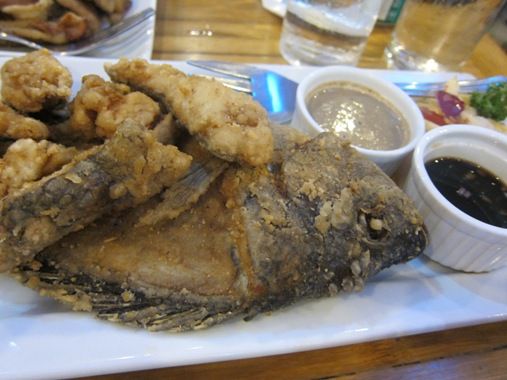 Pinalutong na Tilapia
This was my order. I liked that the tilapia was served in bite-sized bits. This came with two sauces, too, the sisig sauce and the soy-vinegar dipping sauce. Both tasted okay, but I preferred the soy-vinegar dipping sauce over the sisig sauce. Come to think of it, I haven't really consumed much of either sauce because the tilapia was already flavored just right.
Incidentally, today is Hilda's birthday, and this calls for another celebration! Happy, happy birthday, friend! I wish you all the best, and I hope to see you again real soon!
Café Via Mare
Paseo de Roxas cor. Legaspi St.,
Ayala Center, Makati City
Telephone No.: (02) 893-2306; (02) 893-2746