I love Arroz ala Cubana, but I usually get to eat this in carinderia (native food shop) or restaurants only. That's because I seldom cook beef dishes at home. I realized, however, that this is an easy recipe, so I decided to make my very own Arroz ala Cubana last August.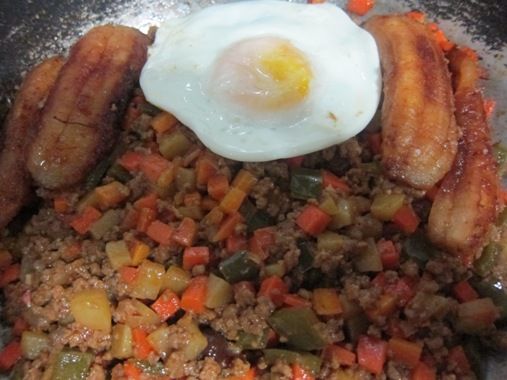 Ingredients:
3 tbsp cooking oil
5 cloves of garlic, crushed
1 medium onion, thinly sliced
½ kilo lean ground beef
2 tbsp soy sauce
1/3 tsp iodized salt
1/3 tsp ground pepper
100g tomato sauce
2 small carrots, diced
2 small potatoes, diced
1/3 cup raisin
2 small red or green bell peppers
5 pcs saba, peeled, sliced and fried
Eggs, fried
Procedure:
1. Heat oil in a skillet.
2. Saute garlic and onion.
3. Add beef and cook while covered for 20 minutes.
4. Season with soy sauce, salt, pepper and tomato sauce.
5. Add carrots, potato and raisin. Cook covered for 2 minutes.
6. Add bell pepper and cook for 1 minute.
You can adjust the seasoning to suit your taste. You can also substitute ketchup for tomato sauce, and if you want, you can boil the saba bananas, instead of frying them.