We had dinner at Papa John's Pizza last Sunday, October 9, 2011. This was only our second time to visit this place. Our first time to eat at Papa John's Pizza was last January. We had a really pleasant dining experience then, so we decided to eat there again. This time around, we ordered the following: Bacon Cheeseburger Pizza, Pasta Bolognaise, Marinara and Waffle Fries.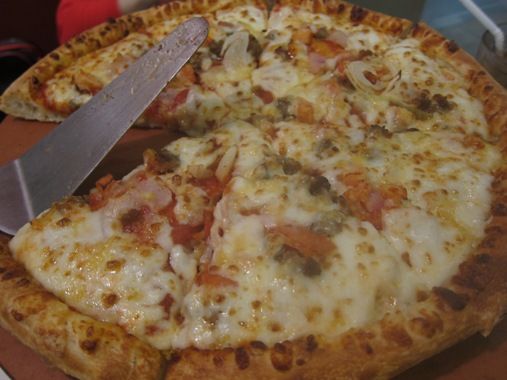 Bacon Cheeseburger (medium, 12 inches), Php430.00
Ground beef chunks with crunchy bacon bits, fresh tomatoes, onions and cheddar cheese
We loved its soft and chewy dough. They also served pepperoncini and garlic butter sauce on the side to make the pizza more flavorful. This was delicious!
Pasta Bolognaise, Php180.00
Your choice of spaghetti or penne with beef bolognaise sauce
This tasted a bit bland, but we ate all of it anyway.
Marinara, Php190.00
Your choice of spaghetti or penne with shrimps, calamari and garlic sautéed in special marinara sauce and topped with grated Parmesan cheese

My son really liked this! As a matter of fact, he almost finished the entire plate. He enjoyed this so much that he blurted out while eating: "This is yummy, Mommy! This is the best restaurant ever!"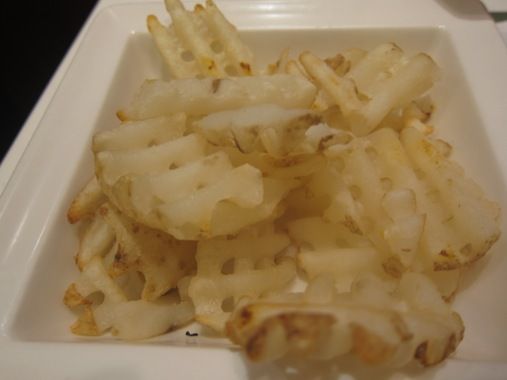 Waffle Fries, Php90.00
Baked potato fries with pizza sauce dip
This was a refreshing change from the usual French fries because these potatoes are baked. We ordered this for the little boy, but because he was so full from the Marinara he devoured earlier, he only ate a little of this.
Iced Tea (not bottomless), Php59.00
We had two glasses of this cool and refreshing iced tea. Justin's Dad opted for water instead.
We took home what was left of our orders and had them for breakfast the next day. For sure, we'll visit Papa John's Pizza again to try other things on their menu.
Papa John's Pizza
2nd Level, The Veranda, Robinsons Galleria
Quezon City
Telephone No.: (02) 631-8689