Pizza Hut Bistro at Robinsons Galleria is quite special to us because this is where our son was baptized five years ago. I was working at home last Sunday, and since we didn't go to the mall the day before (Saturday is our mall day), we decided to go out and have dinner instead at Pizza Hut Bistro.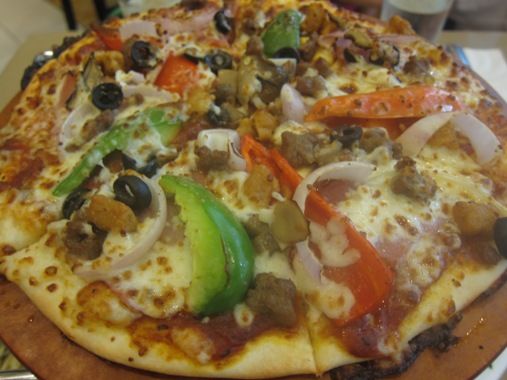 Tuscani Supremo (Medium), Php349.00
The ultimate pizza with 9 choice toppings—beef, black olives with garlic and olive oil roasted bell peppers, Italian sausage, mozzarella cheese, onions, parmesan, pepperoni and smoked ham— on a bed of premium tomato sauce
Hubby said this was delicious! The roasted bell peppers were crunchy and juicy, and I really liked them that way. However, there's something about this pizza that made it a bit salty, but I wasn't sure exactly what it was.
Spaghetti Shrimp Garlic and Mushrooms, Php175.00
Spaghetti sautéed with shrimp and mushrooms in garlic-butter sauce
I love shrimp and mushrooms in my pasta, and the garlic-butter sauce completes this dish. I'm giving this a thumbs-up!
Aglio Olio, PHp115.00
A generous serving of spaghetti sautéed in extra virgin olive oil garlic, anchovies and fresh basil that packs a light spicy taste!

Hubby preferred this over the Spaghetti Shrimp Garlic and Mushrooms. Our son, on the other hand, didn't like it because it's a bit spicy, which was actually what his Dad liked.
Chicken Wings (6 pcs.), Php239.00
Baked chicken wings, served with cool garlic dip. Choose from New Orleans or BBQ flavors.
If you're getting tired of ordering fried chicken, then you should try this. It's delicious, and it's guilt-free because it's baked! We had the New Orleans flavor.
Our plates were swept clean before we left, an indication that the food was yummy, plus we were really very hungry then.
Pizza Hut Bistro
4th Level, Robinsons Galleria
Quezon City
Telephone No.: (02) 632-9410