If you have a kid like mine who doesn't want to see vegetables in his food, then Kids Yummy Veggies is the answer to your problem. My son has been on Kids Yummy Veggies for two weeks now now. We're mixing it with his cereal drink in the morning, and he doesn't notice it. Kids Yummy Veggies is a flavorless powder that blends well with your child's favorite dishes and drinks. One sachet a day is what you need to put more fiber and vitamins to your child's diet.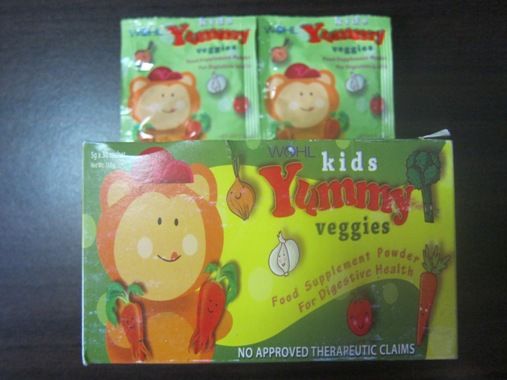 Kids Yummy Veggies, Php19.50 per sachet
Kids Yummy Veggies is good for the tummy and body because it has Inulin, a prebiotic made from the Belgian chicory root, which helps the growth of good bacteria in the colon. Inulin promotes good digestion, aids in the absorption of essential nutrients, increases resistance to gastrointestinal diseases, boosts immunity, decreases fat absorption and prevents constipation.
Kids Yummy Veggies are made by WOHL Dietary Products, Inc. (WOHL), a Filipino-owned nutraceutical (short for "nutrition-pharmaceutical") company that develops quality food supplements using the finest natural ingredients backed by solid research. WOHL works with premier research institutes and universities around the globe to bring us quality dietary supplements. Their other products include SmokeLess and ErvaTrim. You can check out my review of all their roducts here.
Kids Yummy Veggies are available at Mercury Drugstore, SouthStar Drug, Rose Pharmacy, Mega Generics Pharmacy, Joan's Pharmacy and other leading drugstores nationwide.
WOHL Dietary Products, Inc.
88 Eusebio st. cor. Jenny's ave. Maybunga, Pasig
Telephone No.: (02) 576-4019
Fax No: (02) 915-3695