During special family occasions, my younger sister usually prepares two of her well-loved recipes, which are Buko Pandan and Vegeroni Salad. The photo below was taken last Christmas in our parents' home in Cavite. My sister's Vegeroni Salad is at the lower right side of the dining table.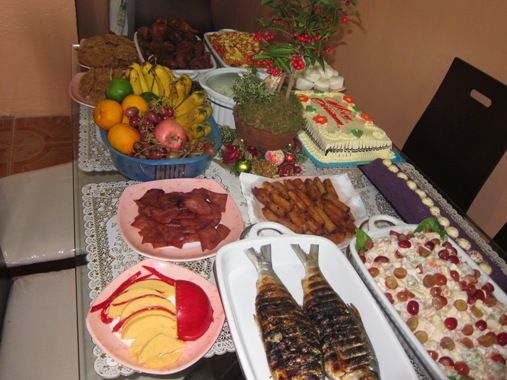 Now, here's a closer view of her Vegeroni Salad that she made for Harvester's Christian Fellowship's 23rd anniversary last month.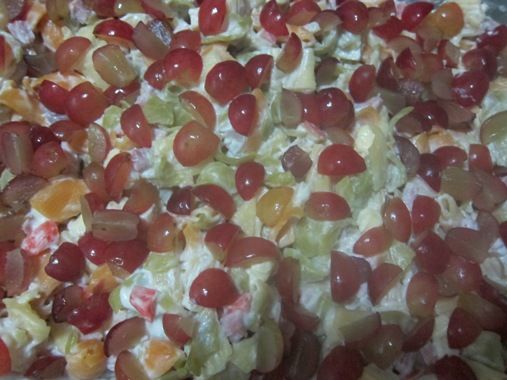 Ingredients:
400g San Remo vegeroni pasta
1 medium carrot, diced
2 small cans pineapple tidbits
2 medium apples, diced
1 small bottle of nata de coco
470ml mayonnaise
2pcs medium boneless chicken breast, boiled and cut into small cubes
1 small box of cheese, cut into small cubes
salt to taste
red lettuce and grapes for plating
Procedure:
1. Cook the San Remo vegeroni pasta according to packet directions. Drain then put in a mixing bowl.
2. Strain the pineapple tidbits and nata de coco.
3. Use the pineapple tidbits syrup for the diced apples so the apples won't turn brown.
4. Mix all the ingredients, then put it in a nice salad bowl.
4. For plating: Put the red lettuce in the salad bowl before transferring the vegeroni salad. Then cut the grapes in half and place on top of the vegeroni salad.
5. Put it in the fridge and serve cold.