I make it a point to buy fresh squid from the supermarket because hubby loves adobong pusit. Well, I only started doing this when I learned how to cook this seafood dish, which I've learned from my father. It's so easy to do!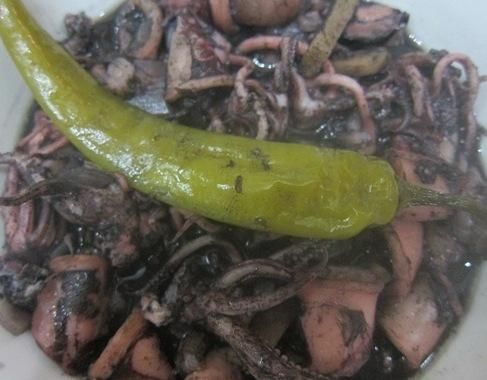 Ingredients:
¾ kilo squid, cleaned
5 cloves of garlic, minced
1 medium onion, thinly sliced
1 tsp ginger, julienned
¼ cup white vinegar
2 to 3 pcs. chili pepper, optional
salt and pepper to taste
Procedure:
1. Heat oil in a skillet.
2. Saute garlic, onion and ginger.
3. Add squid and cook over low heat for 5 minutes.
4. Add vinegar.
5. Season with salt and pepper.
6. Simmer for 10 minutes.
7. Add chilli pepper and serve hot.
There's no need to add water to your adobong pusit anymore because water comes out of the squid as you're cooking them. Water from the squid will taper the sour taste of the vinegar.