I had a gift certificate, valid until December 31, 2011, which entitled me to Php1,000.00 worth of food and beverage at Lola Maria Restaurant. Lola Maria Restaurant is the main dining outlet of The Legend Villas located along Pioneer Street in Mandaluyong City.
Because I didn't want this gift certificate to go to waste, we (me, my son and his yaya) went to Lola Maria Restaurant the day before New Year. I had been meaning to try their buffet, which now costs Php480.00, but we arrived a little past 2 in the afternoon, which was already merienda time (snack time), so we had to settle for their merienda offerings instead.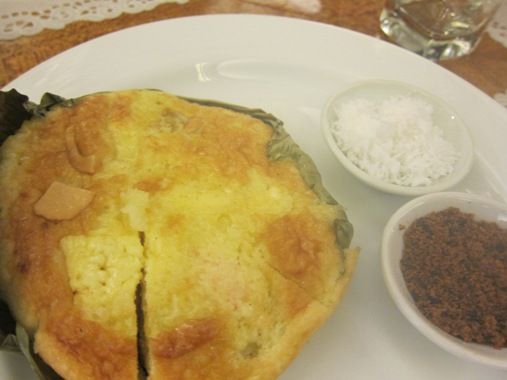 Bibingka Galapong, Php85.00
Traditional Filipino rice cake, topped with kesong puti, salted duck egg and served with grated coconut and muscovado
I expected a delicious, soft and piping-hot bibingka. This one was served hot, but the rice dough wasn't soft at all, plus it was a little bit dry. Because I was excited to eat, I had actually sliced the bibingka before I remembered to take a picture of it. LOL!
Pancit Palabok, Php178.00
Rice noodles with pork-seafood sauce, topped with crushed pork cracklings and flaked smoked fish, served with camachile biscuit

This Pancit Palabok tasted as good as it looked. The sauce was creamy and yummy, and it's actually good for sharing. My little boy, however, only liked to eat the egg toppings.
Arroz Caldo, Php138.00
Filipino comfort food, rice porridge with chicken, flavored with ginger and garlic
I didn't realize how much I missed eating this Filipino comfort food until I had a spoonful of this hot and flavorful Arroz Caldo. I also liked that they didn't scrimp on the chicken; there was a generous amount of chicken chunks in my bowl.
Tokwa't Baboy, Php75.00
This was what I enjoyed the most. The pork was tender, the tofu was cooked just right and the sauce was not too sour and not too spicy.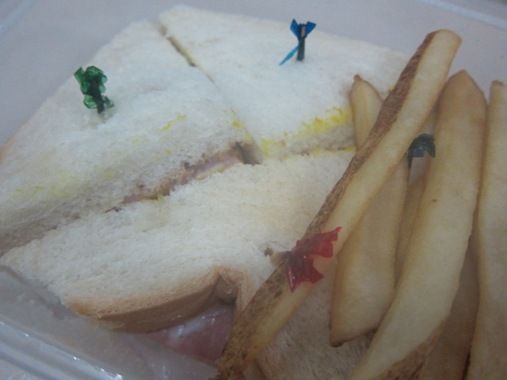 Club Sandwich, Php285.00
A 3-deck sandwich of chicken, ham, bacon and cheese with a choice of potato chips or French fries
We ordered this Club Sandwich for hubby, but we ended up giving this to the duty lobby guard in our building on New Year's Eve. I didn't provide a review here because I didn't get to taste this.
Milk Shake (Sorry, I forgot to check the price!)
This milk shake didn't have crushed ice; I wonder why. It just looked and tasted like ordinary milk. That's probably the reason why my son took only a few sips of this.
Because we enjoyed most of what we ordered, going back to Lola Maria Restaurant is certain. I hope someone will give me a gift certificate again.
Lola Maria Restaurant
The Legend Villas
Mandaluyong City
(02) 702-2793