Two Sundays ago, a good friend from church gave us a special ube tikoy. The timing was perfect because the next day was Chinese New Year. While we're not Chinese, there's really no harm in following the Chinese tradition of eating tikoy during Chinese New Year. They say it brings luck. Well, I need all the luck I can get this year, so I said "Serve that tikoy now!"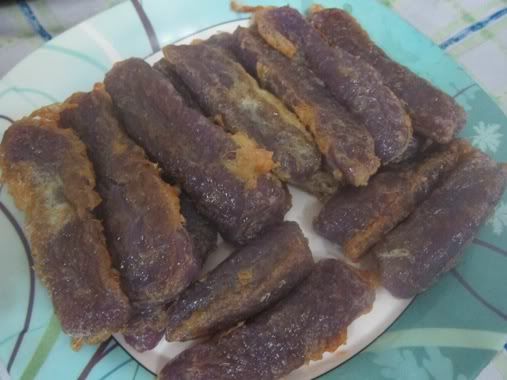 Preparing this is easy. All you need to do is follow these simple steps:
1. Cut the tikoy into thin slices.
2. Beat an egg.
3. Dip tikoy slices in beaten eggs and fry over medium heat until both sides turn brown.
I learned from the same friend who gave this Chinese delicacy that we could actually eat the tikoy as it is. I didn't know that! I thought tikoys should always be cooked.
Did you have tikoy on Chinese New Year? Did you eat it raw or fried?