If you love Spam and rice like I do, then you will surely enjoy Spam Musubi from Mister Musubi! Spam Musubi is the most popular way Spam is prepared in Hawaii.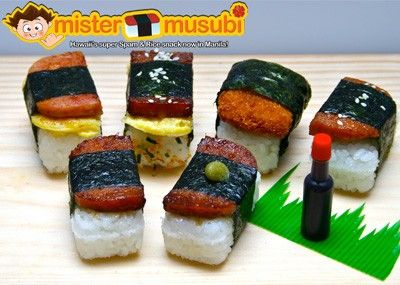 History of Spam
Let me give you just a little bit of history on Spam. Spam started in the U.S. in 1937, but it became popular in Hawaii during World War 2. Spam was used to feed the troops when food was scarce. Spam stayed popular in the islands even after the war was over. Statististics show that in 2009, Hawaiians ate more than 6 million cans of Spam a year. That's how much they love Spam!
What Is Spam Musubi?
Spam Musubi is just like sushi, but it's different because it uses spam and other tasty treats. Spam Musubi is Japanese rice shaped into a block, topped with marinated Spam slices and wrapped in roasted seaweed (nori).
Spam Musubi Surprise!
An angel knocked on my door yesterday to personally deliver free Spam musubis from Mister Musubi. That angel happens to be my classmate in college (Pinky Calica, now Pinky Calica-Vierra) who, together with his Hawaiian husband (Patrick Vierra), owns Mister Musubi.
Food Tasting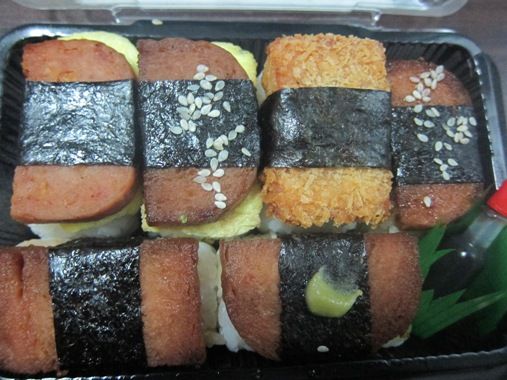 MusuBites, Php150.00
(All 6 Spam musubi flavors in bite size. Flavors include Spam A.M., Little Kahuna, Tonkatsu, Kalbi, Teriyaki and Wasabi)

I was having a hard time taking good shots of the Spam musubis that Pinky gave us because my 5-year-old son just couldn't wait. He simply couldn't keep his hands off the Spam musubis on our dining table. I wanted to taste a little bit of everything, so we started with MusuBites. I liked that the Spam slices are neither oily nor dry; they're actually juicy, and that made them more exciting to eat.
Everything was yummy! Justin loves the spam and rice, but he's leaving all the nori to me. LOL! After tasting everything, I already knew what I liked the most, their Spam Teriyaki!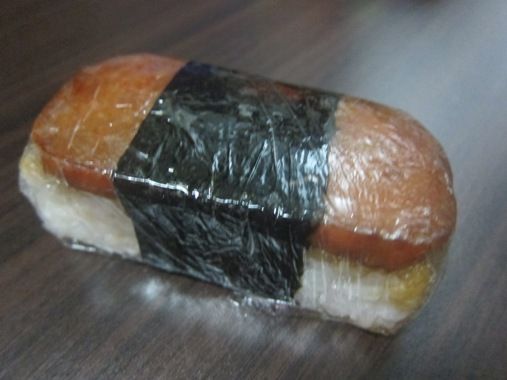 Spam Teriyaki, Php50.00
(Spam + teriyaki sauce+ rice)
I super loved this! The spam slice used here was marinated in Teriyaki sauce. Apparently, this is their bestseller and rightfully so. It's lightly sweet and tasty! I just couldn't get enough of this!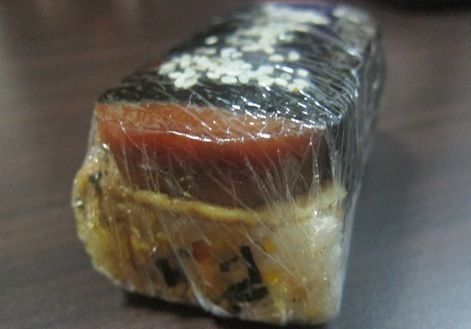 The Big Kahuna, Php70.00
(Spam double cut + teriyaki sauce + omelette style egg + furikake sprinkles + sesame seeds + full roasted seaweed wrap)
If you want your Spam Musubi bigger, then this one's for you. You get two slices of spam, instead of one. I was actually saving this for Justin's Dad, but the little boy wanted to eat more Spam musubis and he wouldn't stop until he ate this, so I had no choice but to give it to him. I only had two bites of this Big Kahuna, and Justin ate the rest! He said we have to go to Tita Pinky's house to get more! LOL!
Verdict: The Spam musubis are delicious and filling, and they're priced just right.
About Mister Musubi
Pinky Calica and Patrick Vierra lived in Singapore for a few years. Patrick's Spam Musubi was a great hit with their friends there, so the couple thought it would be a great idea to share their Spam Musubi to a wider audience. That's how Mister Musubi was conceived. Mister Musubi started business in the Philippines only last year.
According to Pinky, their Spam Musubi is special because "we use the best ingredients, we make our own sauces, we hand-make every musubi individually, and we constantly create new combinations of tastes."
Aside from Spam, Mister Musubi also makes hotdog, hamburger, Korean beef and even logganisa musubis! Their musubis are perfect for road trips, pot-luck parties, outings, baptisms, weddings, showers, fairs, children's parties and other events!
How to Order
*Call or SMS 0927-685-2765 with your order at least 1 hour before desired pick up time.
*Let them know your pick-up time.
*For party packs, they request 48 hours notice.
*They accept cash only or payment through GCASH.
*Currently, they are available for pick up only.
*Pick up hours are from 7AM-8PM at 76 East Capitol Drive Barrio Kapitolyo, Pasig.
Ongoing Promo
They currently have a Mister Musubi Promo on ebay that you can check out here.