It was my son's Moving Up Day last Saturday, March 17, 2012. It's a happy day, and that called for a celebration. We decided to celebrate our son's graduation from kindergarten at Burgoo in Robinsons Galleria. Justin's lolo (my father) and his cousin Ate Tin-Tin were with us to celebrate.
Shrimps and Ribs Platter (Large), Php995.00
My son ate most of the French fries. I wasn't able to taste the grilled corn on the cob because there were only three pieces on the platter, which went to my husband, my Tatay and my niece. The fall-off-the-bone barbecued baby back ribs were delicious! I think I had three of this. I would have also wanted more of their cajun-spiced fried prawns if they were less salty.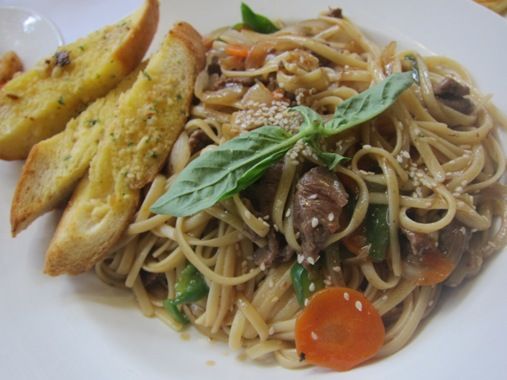 Szechuan Steak Linguini
As you can see, I have not indicated the price of this pasta dish in the photo above. That's because this came for free with an order of one entrée. This is actually not on their menu, but I think it should be because we all loved it. The tender beef strips, carrots, green bell peppers and sesame seeds blended perfectly, creating a delightful treat.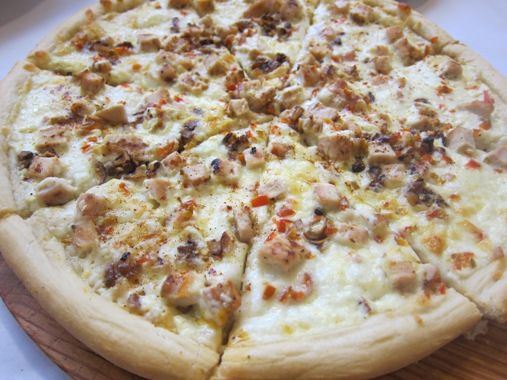 Louisiana Pizza (Large), Php475.00
The last time we dined at Burgoo, we had their Pizza Sampler; it's a combination of four pizza flavors. Of the four flavors that we chose, the Louisiana Pizza was the one I really liked, so I remembered to order this pizza on this particular visit. Everyone gave this the thumbs up. Pizza Louisiana has grilled chicken cubes, red bell peppers and garlic slivers in white sauce.
We had a really wonderful lunch. It was a bit expensive, but it's worth it! Burgoo is now officially one of my favorite restaurants.
Burgoo American Bar & Restaurant
4th Level, Robinsons Galleria
Quezon City
Telephone No.: (02) 633-6256; (02) 633-9565