I was one of the lucky bloggers who were the first to savor Max's heart-warming flavors for Lent last Wednesday at Max's Restaurant in Glorietta 3, Makati City.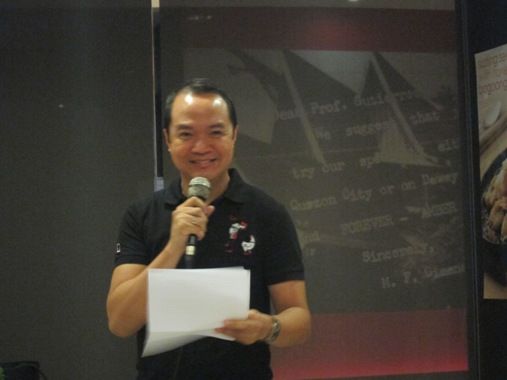 Mr. Bobby Simborio, Corporate Communications Officer for Max's Group of Companies
Max's launched its new and lighter fare for Lent, which includes Sizzing Seafood in Honey Bagoong Sauce, Adobong Kangkong Stuffed Tofu and Cauliflower Puffs.
Max's Sizzling Seafood in Honey Bagoong Sauce, Php265.00<
Breaded cream dory, shrimps and squid rings, sprinkled with julienned red bell peppers and chopped spring onions, splashed with honey and bagoong and served in a sizzling hot plate
We cook cream dory, shrimps and squid rings at home, but we've never tried cooking them all together, so yes, this is something new to me. The combination of honey and bagoong nicely complements this seafood dish, too. This one's a must-try for seafood lovers like me!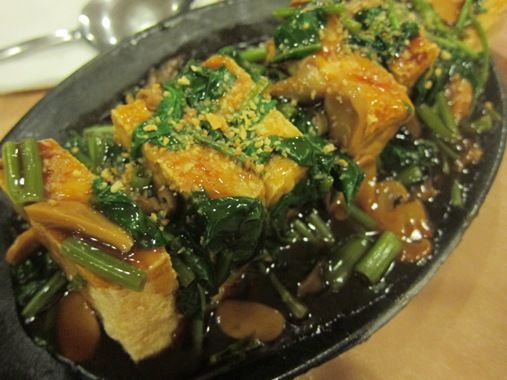 Max's Adobong Kangkong Stuffed Tofu, Php150.00
Fresh kangkong leaves, shiitake and button mushrooms drizzled in sweet adobo sauce stuffed in deep-fried tofu blocks
When eaten on its own, the tofu is quite bland, but when you combine it with the other ingredients, particularly the sweet adobo sauce, it becomes delightfully good.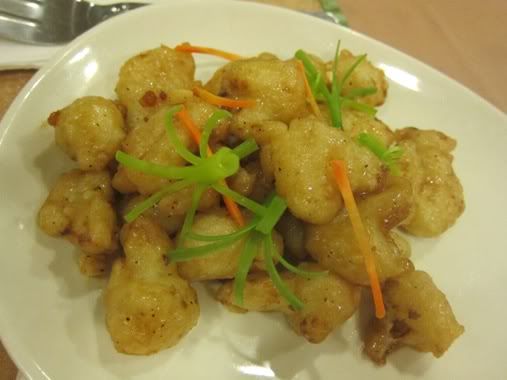 Max's Cauliflower Puffs, Php160.00
Crisp cauliflowers are dipped in a special batter, deep-fried and tossed in a special sauce.
My little boy loved these! I was actually surprised that he liked these because he has never eaten cauliflower before. It's slightly sweet and crunchy, and it reminds me of the Cauliflower Frittters I had at Cafeteria Verde.
According to Bobby Simborio, Corporate Communications Officer for Max's Group of Companies, "At Max's, we understand that Lent is a special time for Filipinos. This has inspired us to create our lightest and the most scrumptious fare for Lent. These dishes are bursting with flavors, married with the homegrown classic taste that Filipinos love – it's a certified gustatory experience for everyone."
These Lenten offerings will be available in all Max's branches nationwide starting March 1, 2012. To discover the most awe-inspiring dishes from Max's, log on to www.maxschicken.com or visit www.facebook.com/maxsrestaurant to be a Max's Restaurant Facebook fan.
Max's Restaurant
Ground Level, Glorietta 3,
Ayala Center, Makati City
Telephone No.: (02) 752-8486 to 88