Max's introduced its latest group meal offering called "4Sharing Meals" at their Scout Tuazon branch last Thursday, April 12, 2012. I was there, together with other bloggers and media people, to cover the event. The campaign launch was hosted by Chico, Delamar and Gino.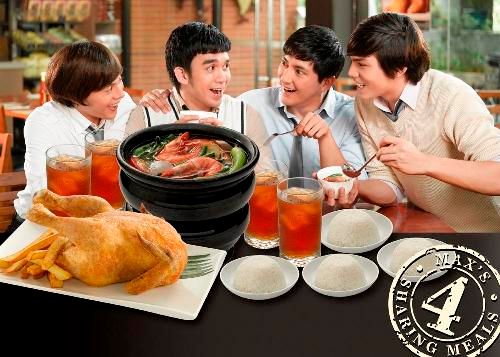 Max's new campaign was inspired by the knowledge that Filipinos love to share food and bonding moments with their friends. According to Edgar Allan Caper, Marketing Director for Max's Restaurant, ""Max's 4Sharing Campaign is about understanding and responding to the needs of our customers, whether they are groups of teenagers hanging out together, young professionals meeting up for lunch, or seasoned Max's customers craving for their favorite comfort dishes. With Max's new offering, they get the best of everything – delectable dishes that are signature to Max's at the most budget-friendly price, so they can enjoy and share these meals to their heart's content."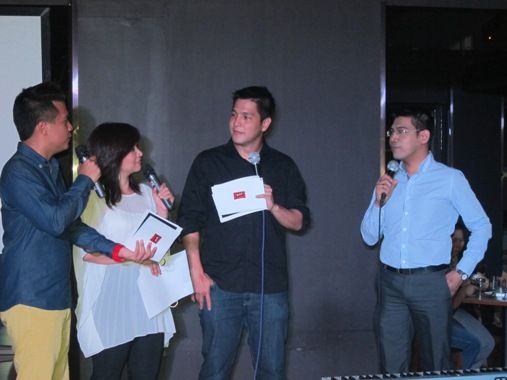 Event hosts Chico, Delamar and Gino with Max's Marketing Director Edgar Allan Caper
Starting today, April 15, 2012, diners can avail themselves of Max's most affordable meal bundle good for 4 persons for only
Php799
. This includes one whole, regular, sarap-to-the-bones Fried Chicken, a bowl of piping hot Sinigang of their choice, four servings of rice and four glasses of iced tea. They'll get a total savings of Php187 by ordering Max's 4Sharing Meals.
But wait, there's more! Max's will be giving away 32 iPhone 4S units to those who will take advantage of their 4Sharing Meals. Four winners will be drawn each week, for a period of 8 weeks! That is cool!
To join, just make sure you get your official receipt of your purchase of a 4Sharing Meal and enter the required details in their online form available here. You'll have one online raffle entry for each 4Sharing Meal you purchased.
Max's 4Sharing Group Meal offering will be available for delivery and take-out from April 15 to June 10, 2012 in all of Max's branches nationwide.
Learn more about Max's 4Sharing Meals by logging on to www.maxschicken.com and visit www.facebook.com/maxsrestaurant to know about the coolest offerings from Max's.