We were surprised to see a new restaurant at the place formerly occupied by Hyphy's at The Veranda at Robinsons Galleria. The place is Blackbeard's Seafood Island. The place sounds familiar, so I asked one of the staff if this is the same Seafood Island at Market Market, and indeed it is. It was nice to see the staff all dressed in Hawaiian costume, and it actually gave me the feeling that we were in for a festive treat.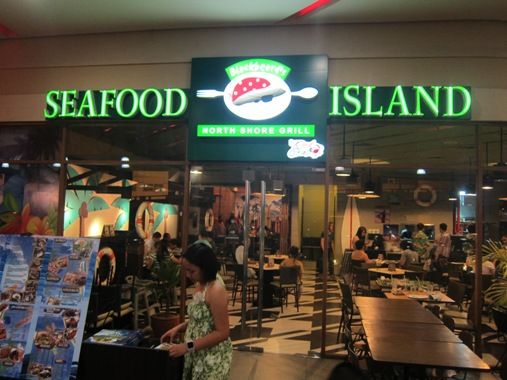 We wanted to try their
Boodle Feasts
. A
boodle feast
is also known as a
boodle fight
. According to
answers.yahoo.com
, a "
boodle fight
" is the Philippine Military jargon for a mess hall banquet where all the food are piled into one big tray in each table and every soldier, enlisted men and officer alike eat from that same tray with their hands as a symbol of camaraderie, brotherhood and equality in the Armed Forces. The "fight" part refers to the fact that it's everyman for himself during these feasts, this means you grab and eat as much as you can before the food runs out or else go hungry because everyone else is gorging away."
Our server suggested that we try their Tali Beach, but we liked the dishes included in their Boracay's Feast, so that's what we ordered.
Boracay's Feast
consists of San Mig clams, grilled liempo, chicken adobo sa gata, grilled squid, grilled tilapia, grilled talong, okra, grilled pineapple and bagoong rice.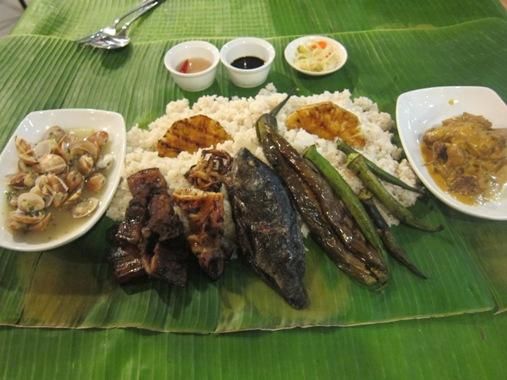 Boracay's Feast for 3 to 4 persons, Php715.00
The first thing we noticed was the small serving of all the food included in this boodle feast. There were only a few liempo slices, four small pieces of chicken, several pieces of clams, 1 squid, 1 tilapia, 2 eggplants, 3 okras and 2 pineapple slices, but there was a lot of bagoong rice!
First off, the San Mig clams tasted like ordinary clam stew. They were also served cold. The liempo tasted okay, but there was nothing extraordinary about the chicken adobo sa gata. All the grilled foods were fine, but I liked the grilled pineapple slices the most. We finished everything except the bagoong rice.
Buko Shake and Guyabano Shake, Php95.00 each
Hubby enjoyed his guyabano shake, but my buko shake needed more Splenda.
I think the Php685 Groupies Promo that we had at Giligan's was a lot better than Blackbeard's Seafood Island's Boracay's Feast in terms of taste, serving size, and price.
Blackbeard's Seafood Island
2nd Level, The Veranda, Robinsons Galleria
Quezon City
Telephone No.: (02) 477-7611