I'm always excited to do product reviews, especially when the products sent my way are those that I can really use. I received an early morning call two Fridays ago asking for directions to my place. The package arrived before lunch time, which carried the product I was going to review—Swish Breath Spray. Well, this is something that everyone needs, and I was more than happy to try this new product from Unilab.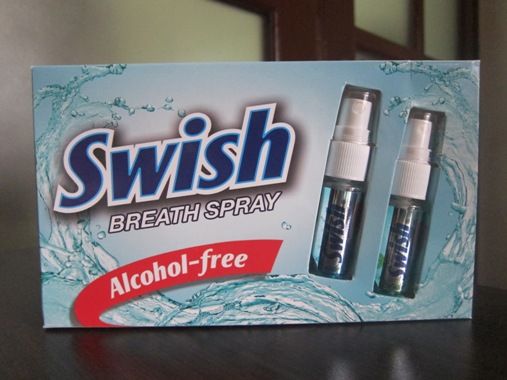 I'm a work-at-home mom (WAHM) and a blogger. Being a WAHM means I spend most of my days working at home, but I make sure I'm not confined to the four corners of our small condo unit seven days a week. Going out of the house for a couple of hours at least once a week is like a breath of fresh air, something that WAHMs like me really need. I leave the house to shop, to eat out and to stroll around the mall with my husband and son, and if my schedule permits, I attend blog events that I like.
Swish Breath Spray: Arctic Chill and Peppermint Fresh
Speaking of blog events, most of them provide refreshments for their guests, and as we all know, certain foods leave a smell on our breath. This is when we need to have a quick breath fix, and this is when Swish Breath Spray comes in really handy. I tried it on several occasions, and it really worked! My mouth feels clean and fresh after 1 to 2 sprays of Swish Breath Spray.
Here are more things I like about Swish Breath Spray:
• It's small, light and convenient to use.
• It's alcohol-free and sugar-free.
• It freshens breath in just 10 seconds!
• It quickly kills germs and bacteria in the mouth to eliminate bad breath caused by eating, drinking and smoking.
• It's very economical. Each bottle costs Php105.00, which can last up to 100 sprays.
• It comes in two refreshing variants – Arctic Chill and Peppermint Fresh.
• It's available in supermarkets, drugstores and convenience stores nationwide
Now I don't leave the house without Swish Breath Spray.
<