Hubby has been eyeing this newly opened Korean restaurant in Robinsons Galleria for sometime now. We finally got the chance to try Seoul Garden HotPot two Saturdays ago. Seoul Garden HotPot occupies the space vacated by Chef d'Angelo.
I liked that the place was bright, but it was a little cramped. Service was a bit slow, too.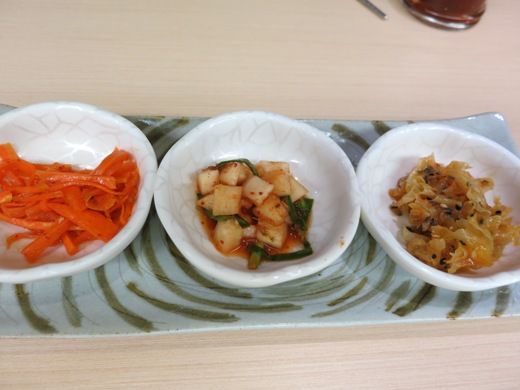 Korean side dishes
I tried the side dishes, but they did not register with my taste buds perhaps because I was too busy inspecting their menu and looking around to see the people who eat at this restaurant.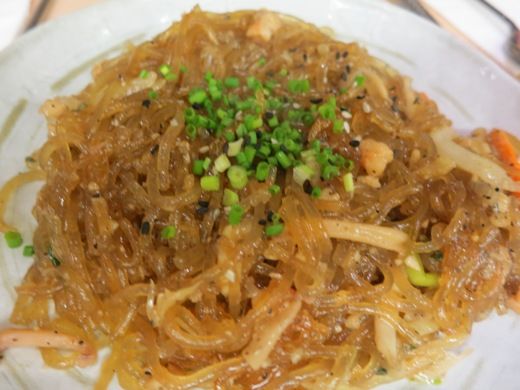 Stir-fried Korean Tang Hoon, Php119.00
This is actually just sotanghon, otherwise known as cellophane noodles or Chinese vermicelli. The difference between Korean sotanghon and Filipino sotanghon is that Korean sotanghon is sticky with a hint of sourness. I couldn't actually figure out if I like this or not at first, but after a few tries, I realized that it was okay. It was something I could tolerate.
Seafood Pancake, Php109.00
We liked this the least because this was bland. Even the sauce didn't do much to enhance the taste of this Seafood Pancake.
HotPot Braised Beef & Tendon, Php319.00
Finally, we found something we really liked! We enjoyed the generous servings of super soft and delicious beef chunks and tendons. This tasted like Beef Pochero; the only difference is that this hotpot dish was spicy.
I think it will take a while before I get used to Korean foods, and yes, it will also take a while before I visit another Korean restaurant.
Seoul Garden HotPot
4th Level, Robinsons Galleria
Quezon City (former location of Chef d' Angelo)