The little boy was really getting bored at home, and he really wanted to go out last Thursday. I remember I was also getting cranky and grumpy already because it was too hot at home even if our air conditioner was turned on. We were all sweating like crazy! We badly needed something to cool us down on that particular hot summer day. That's when I decided we'd go to Robinsons Galleria and use our Masatami Shave Ice gift certificates.
This is how they prepared the
Rainbow Hawaiian Shave Ice
. After putting in the azuki beans and vanilla ice cream in a cup, one of the staff placed ice in the ice shaving machine.
Then, he put syrup on the shave ice. The fun actually lies in choosing your syrup. You have three choices:
regular syrups
(bubble gum, cotton candy, strawberry, banana, blueberry, blue raspberry, orange, pink lychee, pineapple, watermelon, coffee, blueberry cheesecake and strawberry margarita),
sugar-free syrups
(blueberry and strawberry) and
liquor syrups
(strawberry margarita and mango margarita)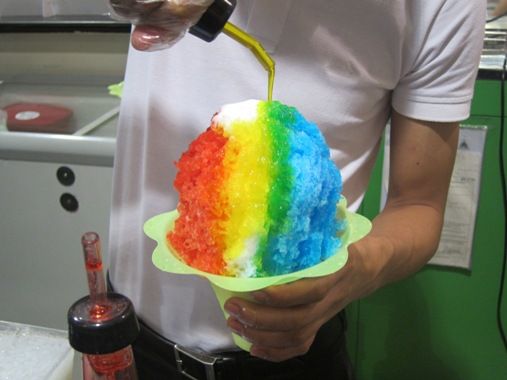 For your add-ons, you can have azuki beans, snow cap and/or vanilla ice cream.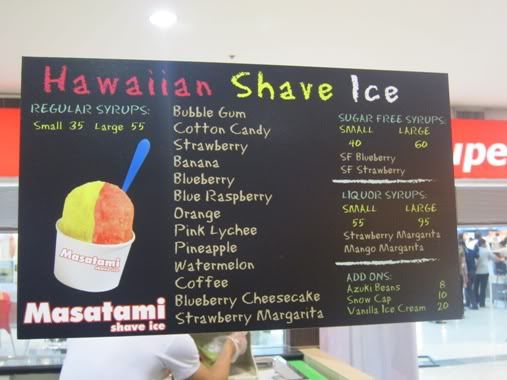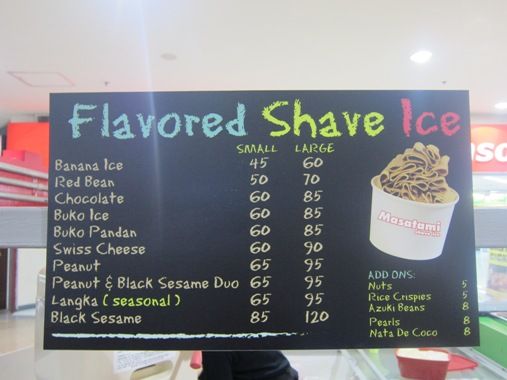 We had two large orders of
Rainbow Hawaiian Shave Ice
with all the add-ons and one large order of
Buko Pandan Shave Ice
with azuki beans, pearls and nata de coco.
Large Rainbow Hawaiian Shave Ice with Snow Cap, Azuki Beans and Vanilla Ice Cream, Php93.00
Justin and his
yaya
each had one of these. We should have ordered just one because one large order is really huge! It's actually good for sharing.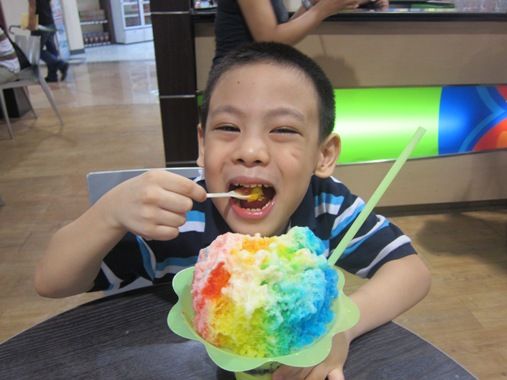 Justin liked the banana and strawberry syrups and the vanilla ice cream. He even drew five stars on a napkin and gave it to one of the staff of Masatami Shave Ice. He told them his Rainbow Hawaiian Shave Ice was yummy. He wasn't able to finish his large cup, however, so we took home what's left of his Rainbow Hawaiian Shave Ice. Justin's
yaya
finished her large cup, and she said that it was so filling!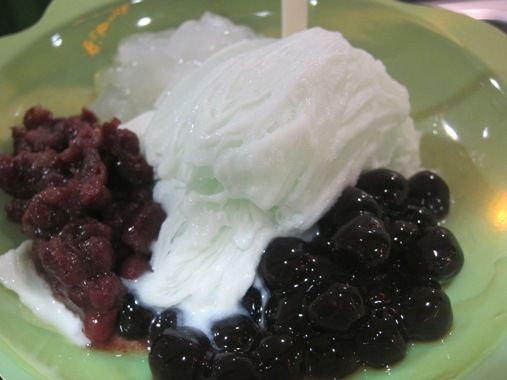 Large Buko Pandan Shave Ice with Azuki Beans, Pearls and Nata de Coco, Php109.00
I had large Buko Pandan Shave Ice. I liked how the smooth, fine ice melted in the mouth. I loved pearls and nata de coco, too, but I don't really like beans; next time, I'll have rice crispies instead of azuki beans. I also wish they have sugar-free flavored shave ice so I can indulge on this more often minus the guilt.
If you're craving for something colorful and refreshing this summer or anytime, then you must try Masatami Shave Ice.
Masatami Shave Ice has branches in the following malls:
SM Mall of Asia – South Arcade, Pasay City
Glorietta 4 Cinema, Makati City
Robinson's Galleria, Quezon City
You can also visit Masatami Shave Ice on Facebook.
Masatami Shave Ice
Level 1 (in front of Robinsons Supermarket), Robinsons Galleria
Quezon City