Johnson & Johnson Philippines partnered with respected culinary and pastry expert Chef Heny Sison to mark the Company's official launch of no-calorie sugar alternative SPLENDA® with a 10 x 12 foot creation of cupcakes made with the product. Unveiled to journalist friends last May 21, 2012 at The Ayala Museum, the cupcake creation encouraged guests to "discover a new sweet with Splenda" as it demonstrated the product's great taste, versatility and unique sugar-like taste that doesn't leave bitter and metallic aftertaste when incorporated into mainstream desserts for consumers opting for a lower-calorie alternative.
Chef Heny Sison
According to Chef Sison, "You can use SPLENDA® almost anywhere you would normally use sugar. Because it is a heat stable sugar alternative, it is great for cooking and baking. And since it is the closest in taste to real sugar, for me, it is the best alternative sweetener to sugar. Cakes made with Splenda are frequently requested, and we have incorporated its use into our Culinary classes at the Center so it has become a staple in our business."
"With health and wellness being an ever growing concern of more and more Filipinos, finding ways to achieve a balanced lifestyle for our consumers has become an increasingly important matter for us at Johnson and Johnson," said Gabrielle Solomon, Assistant Brand Manager for Nutritionals, Johnson and Johnson. "We are extremely excited to have acquired official distribution rights from McNeil USA to distribute and market SPLENDA®, the leading no calorie sweetener brand in the USA to offer our consumers a healthier sugar-free alternative."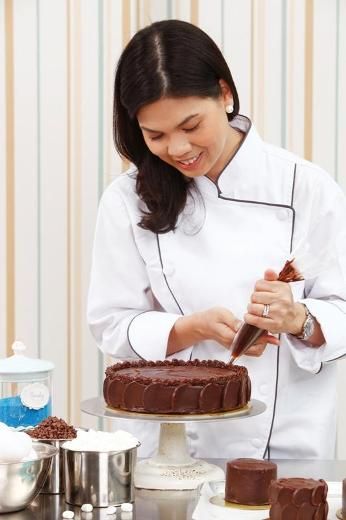 Chef Baba Ibazeta-Benedicto
Solomon announced the availability of SPLENDA® Co-Creations from Chefs
Heny Sison
and B
aba Ibazeta-Benedicto
and very soon at
Coffee Bean and Tea
Leaf outlets, as Johnson & Johnson continues to expand its list of business partners. SPLENDA® in 2- and 5-lb packages (granulated) and in single-use sachets is available for sale at top supermarkets, drugstores and in leading food and beverage outlets beginning this month.
SPLENDA® is a low-calorie sugar alternative that comes closest to sugar. It is suitable for those following a low carbohydrate diet without sacrificing taste. SPLENDA® Sweetener Products have been safely enjoyed by millions of consumers worldwide, including pregnant and nursing women, children and individuals with diabetes. It is currently America's #1 sugar substitute and can be used almost anywhere sugar is used, including cooking and baking.
For more information on Splenda and its variety of applications,
visit http://www.facebook.com/SplendaPH.