There was as a time I stocked up on oatmeal and cereal drinks at home because I was looking for healthy alternatives for breakfast or snacks for my son. I bought different brands because I wanted to know what my son would like best. One particular brand stood out—Energen Nutritious Milk & Cereal. I bought a lot of these again during my last grocery shopping, and like before, I bought the chocolate and vanilla flavors.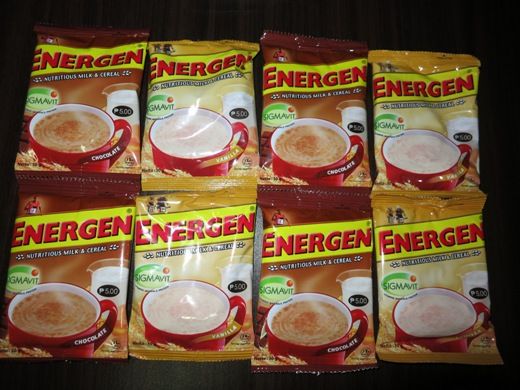 Energen chocolate and vanilla 30g sachets, Php5.00 each
My son likes the chocolate flavor more than the vanilla flavor. I, on the other hand, preferred the vanilla flavor. Energen Nutritious Milk & Cereal is great for people on the go because it's light and healthy.
Energen Chocolate is made of milk, cereal and chocolate, while Energen Vanilla is made of milk, cereal and vanillin. Both variants have sugar, creamer, milk powder, wheat flour, corn, oats, malt extract, eggs, calcium and vitamins.
What makes Energen healthy?
Energen is enriched with SIGMAVIT, a balance combination of vitamins, minerals and proteins that are required for growth, development and maintenance. It has Vitamin A to keep eye and skin healthy, Vitamin B12 to strengthen energy metabolism, Vitamin D to help in the absorption of calcium in the body, Vitamin E to protect our skin and improve immunity, and Calcium to keep our bones and teeth healthy.
Energen Chocolate
Preparing this cereal drink is easy. Just pour one sachet of Energen into a cup, add 150ml of warm water, stir thoroughly and serve! You can adjust the amount of water in your cereal drink according to your preference.