We're a family that loves to eat. That is the reason why this food blog was conceived more than a year ago. Our family bonding moments usually revolve around food. Movie night isn't complete without popcorn, chips and sodas, for instance. We also usually round off our trip to the park or to the mall with a bite of something that catches our fancy at the moment. And yes, we eat out regularly every weekend as part of our growing family traditions. Suffice it to say that eating inside or outside our home is one of our simple and sometimes guilty pleasures.
Thanks to my husband, we are able to try different restaurants and savor different cuisines. We have had Filipino, Singaporean, Korean, Thai, Chinese, Japanese, American, Continental and International cuisines. We have also experienced both fast food and fine dining, and we realized that our food and place preference vary depending on our mood, the atmosphere and the circumstances around us.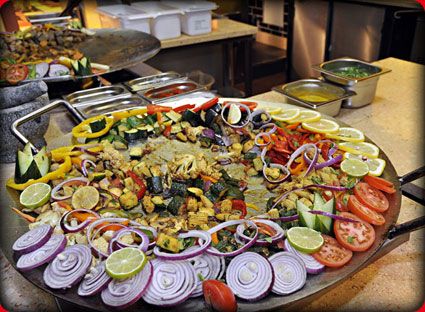 Hopefully, our family food adventures will take us to other unique places around the world, like the United Kingdom (UK). I heard about this great restaurant in the UK called
Red Hot Buffet
. They say it's a food lover's haven, and that is something we would like to try for ourselves. Not only do they run exciting promotions every now and then, but their world buffet allows you to get your fill of foods from all over the world which makes for a truly memorable
dining experience
. Oh, how wish I could visit
Red Hot Buffet Manchester
right now to dig into some Indian, Italian, Chinese, Thai, Mexican, Japanese and English dishes!
What about you? Do you have a dream restaurant, too?