One of our favorite pizza and pasta places is Papa John's Pizza. We would go back to Papa John's Pizza every now and then to order old favorites and to try new treats. We were at Papa Johns Pizza at Robinsons Galleria three Saturdays ago to have an afternoon snack.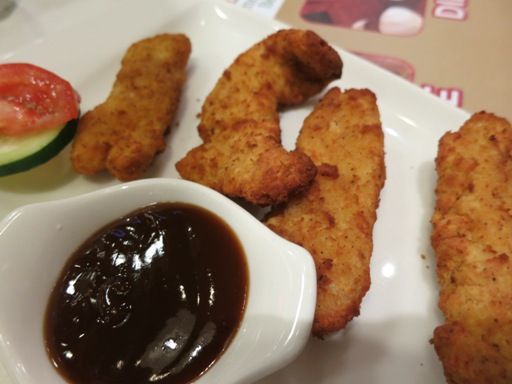 Chicken Strips, Ph169.00
Our 6-year-old son loves chicken nuggets, so we ordered these Chicken Strips for him. Unlike Chicken McNuggets from McDonalds which he also likes, these Chicken Strips were baked, not fried, so they're healthier. They're crisp on the outside and moist and flavorful on the inside.
Spicy Chicken Tropicale (small, 9 inches), Php350.00
It's actually a Hawaiian Pizza with a lot of add-ons. It had tender grilled chicken, crisp bacon, pineapple bits, Jalapeño peppers and mozzarella cheese. It's meaty, sweet and slightly spicy. The dough, as expected, was soft and chewy, just the way we liked it. If you want a pizza with a kick, then I suggest you try this, too.
Carbonara, Php180.00
We chose spaghetti carbonara, instead of penne carbonara, because we're spaghetti lovers. This was served with bacon, fresh mushrooms and mozzarella cheese in carbonara sauce and topped with grated Parmesan cheese. We loved the delicious and rich taste of this pasta dish. Even the little boy liked it, too!
Because we enjoyed everything we ordered, you bet we're going back to Papa John's Pizza soon.
Papa John's Pizza
2nd Level, The Veranda, Robinsons Galleria
Quezon City
Telephone No.: (02) 631-8689