We were at the SM Mall of Asia last Saturday because our son wanted to see The Robot Zoo. We went to Café Adriatico afterwards for our late afternoon snacks.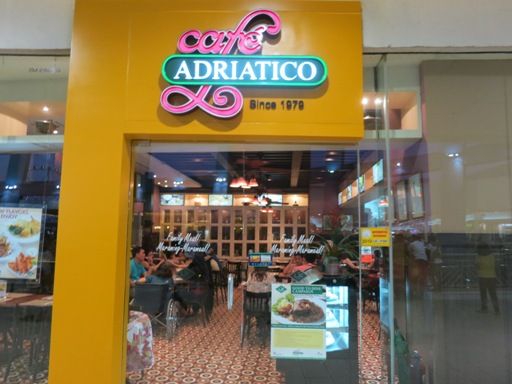 We ordered their famous Pancit Palabok, Dinuguan at Puto, Arroz Caldo with Tokway't Baboy and Spaghetti Ala Carbonara.
Café Adriatico's Famous Pancit Palabok, Php245.00
I simply had to try this Pancit Palabok. I had to know why this was the most expensive item in their "Afternoon Delights" list. One thing I noticed about this Pancit Palabok was that the noodles were chewy in a positive sense. I realized I actually like palabok noodles this way. The thick and savory palabok sauce combined with shrimps, lots of squid, pork crackling and hard-boiled egg really tickled my taste buds. However, I think that the serving was too small for its price.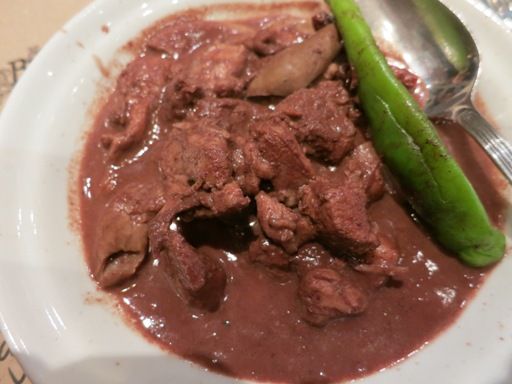 Dinuguan at Puto, Php195.00
Dinuguan is a Filipino comfort food made from pork innards simmered in pork blood, vinegar and spices, while puto, another Filipino delicacy, is steamed sweet rice buns. One thing I noticed about this dinuguan is it was a bit pale compared to the other dinuguan we have tried in the past; the serving was also small, but hubby said it tasted okay.
Arroz Caldo with Tokwa't Baboy, Php195.00
Arroz Caldo is rice porridge with toasted garlic and spring onions. It is best paired with Tokwa't Baboy, tofu and pork slices with vinegar and soy sauce. The Arroz Caldo was for our helper; according to her, the Arroz Caldo was seasoned just right, plus it had a big piece of chicken, something that I'm sure she enjoyed.
The Tokwa't Baboy was mine, however, but in my haste to gobble it up, I forgot to take a picture of it. Lol! Anyways, it was a small serving; the pork and tofu were also cut into very small pieces. I wasn't sure if the sauce has vinegar in it because in their menu it says "mildly spiced soy sauce dressing." I prefer Lola Maria Restaurant's Tokwa't Baboy over this one.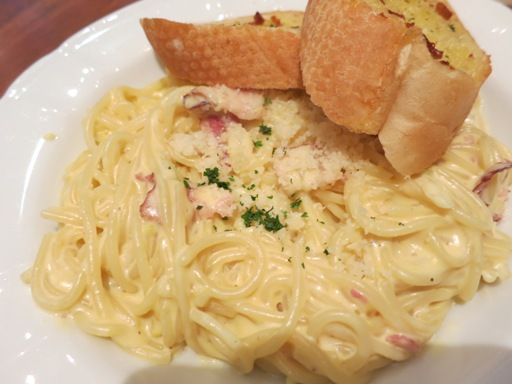 Spaghetti Ala Carbonara, Php270.00
This is spaghetti in creamy carbonara sauce with bacon, egg yolk and Parmesan cheese. This is what we ordered for our little boy. He was really hungry after visiting The Robot Zoo that he almost finished the entire plate. He said it's yummy, and I agree!
Café Adriatico offers good food and great ambience, but these come with a price, so be prepared to spend more when you eat here.
Café Adriatico
2/F, SM Mall of Asia
Pasay City
Telephone No.: (02) 556-0608