Mooncake Festival 2012 may be over, but my craving for mooncakes remain. I'm not sure if I've had mooncakes in the past; I might have but just didn't pay attention to them, which is probably the reason why I have no idea what they taste like. Last Saturday while doing my weekly grocery shopping, I chanced upon a mooncake from Eng Bee Tin Chinese Deli. There were only two mooncakes on the shelf, so I hurriedly got one lest somebody else might see it and beat me to the punch. I was that desperate!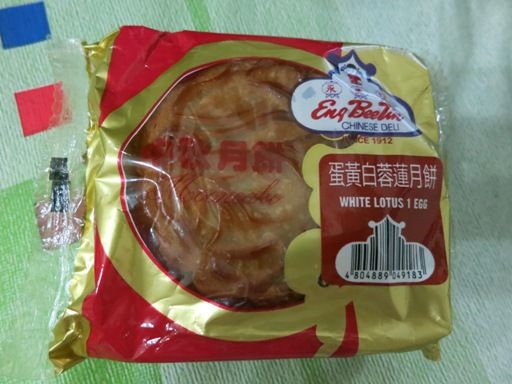 Eng Bee Tin Chinese Deli Mooncake, Php170.00
These words were written on the packaging: "White Lotus 1 Egg." I had no idea what it meant so I did my research on the Internet. According to
ChinatownConnection
, mooncakes have many types of fillings, one of which is the "lotus seed paste," which is quite expensive. Apparently, the Eng Bee Tin mooncake that I bought used white lotus paste and "1 egg" for 1 whole salted duck egg yolk in the center to symbolize the full moon.
This small round mooncake costs Php170.00. I learned that mooncakes are pricey because aside from their expensive fillings, mooncake making is also a labor-intensive process.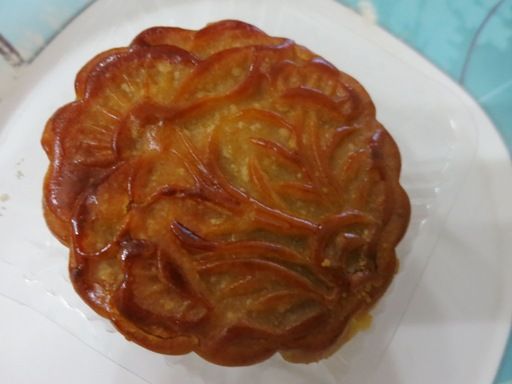 Chinese symbols for harmony and longevity are inscribed on top of traditional mooncakes. However, the imprint on top of this Eng Bee Tin mooncake is different from that of the traditional mooncakes I saw on the Internet; I'm not really sure if these are trees, vines or flowers.
I had a small wedge of this mooncake (which was the suggested serving) that I gobbled up in no time. It's chewy and tender and sweet. It actually tasted like hopia except that it's richer, heavier and denser. Another difference, which I liked, is the salted egg yolk which complements the sweetness of the mooncake.
So how was my first experience eating a mooncake? Not bad! However, because it's quite costly, I think I'll have mooncakes only once a year.