We had dinner at Cajun Red Rock at Robinsons Galleria last Saturday. We had our usual order (Creole Chicken Pasta and Shrimp and Ribs Treat) and a new order (Mustard Peppered).
Creole Chicken Pasta, Php250.00
This is one of our favorites at Cajun Red Rock. This is spaghetti in special cream sauce with special Creole flavors served with crisp chicken strips. It also has onions, mushrooms, tomatoes and green bell pepper. This is absolutely delicious! One thing I notice about this pasta dish is that there were more toppings than pasta, but I'm not complaining! The adults ate all the toppings, while our son ate most of the pasta.
Shrimp and Ribs Treat, Php445.00
I already expected that hubby would order this because he loves ribs, and he knows that I love shrimps. It's a combination of grilled ribs, crispy shrimps, grilled corn on the cob and herb rice. The ribs were tender and tasty. I also loved munching on those crispy shrimps dipped in tartar sauce.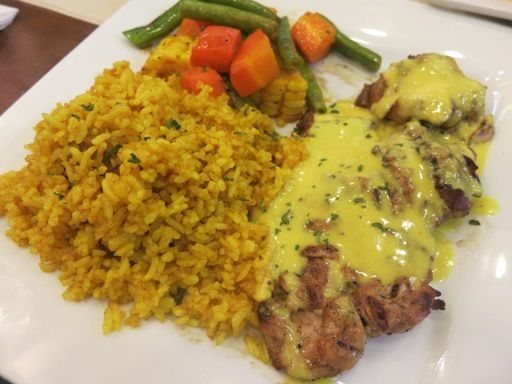 Mustard Peppered, Php270.00
You can choose to have grilled chicken or chops for this order; you can also choose two side dishes. I had grilled chicken with saffron rice and mixed vegetables. The sauce was made from fresh ground pepper and mustard. This is also a must-try!
All our plates were wiped clean after eating. That's because we enjoyed our dinner at Cajun Red Rock.
Cajun Red Rock
4th Level, Robinsons Galleria
Quezon City