Good news to coffee lovers out there! A coffee that offers both good taste and good health is here: Stanhome's Cup of Love Gourmet Cappuccino. This sweet concoction is made of natural and healthy ingredients, namely: Omega-3, Barley, Garcinia cambogia and Stevia.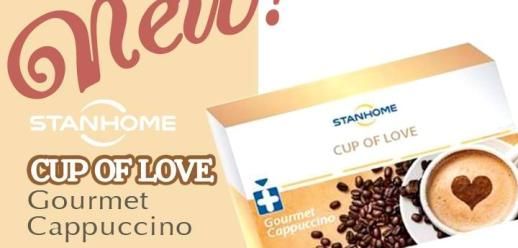 Omega-3
is a well-known fatty acid that boosts heart health, lowers triglycerides and improves mental health and outlook. It can also improve joint health by reducing tenderness and stiffness associated with arthritis and osteoarthritis.
Barley, a unique grain, is a dietary fiber that benefits blood sugar levels
and is a good source of zinc, which helps slow down aging of the skin and muscles. It is low in cholesterol and can even reduce cholesterol levels. It can cure digestive problems such as constipation.
Garcinia cambogia controls cholesterol and is a natural agent for weight loss. It helps suppress appetite and increases the metabolic process.
Stevia is a natural sweetener derived from the sweetleaf plant. It has up to 300 times the sweetness of sugar, but it is carb and calorie free. Used as a sweetener in many cultures for centuries, it helps lower blood pressure and blood sugar.
For more information about Cup of Love Gourmet Cappuccino, visit the Stanhome World Philippines Facebook Fan Page, e-mail feedback@stanhomeworldph.com or contact 091-STANHOME (0917-8264663).