Shawarma or doner kebab in Turkish is a dish usually made of beef or veal cooked on a rotating vertical spit and served wrapped in a flatbread like pita. I am not really fond of shawarma, but my husband really likes it. On our way home after dropping by the Meralco Liwanag Park last Thursday, we spotted Jacob's Shawarma which is just a stone's throw away from our place. Hubby suggested we try their shawarma for a change.
Because we went there on a Thursday, what we got was chicken shawarma. They serve different meat each day. They serve chicken on Mondays and Thursdays, beef on Tuesdays and Saturdays and Fish (Salmon) on Wednesdays and Fridays.
You will find everything Turkish inside, from the map of Turkey on the wall that you'll see on your right when you enter the restaurant to the paintings on the wall inside the restaurant, and of course, you'll be served authentic Turkish cuisine. We had chicken shawarma with pita and wheat bread, baklava and Turkish yogurt.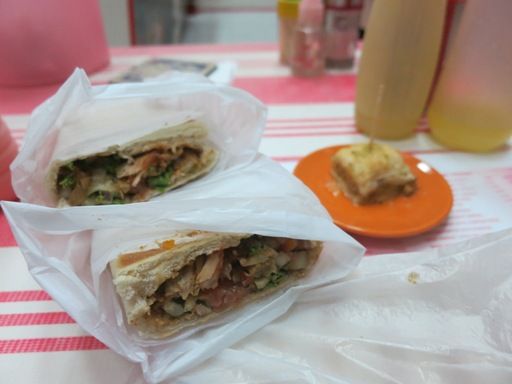 12-inch Chicken Shawarma Pita, Php130.00
A 12-inch shawarma is too long for any of us because we already had dinner before we went to the Meralco Liwanag Park, so we requested for it to be cut into two smaller pieces. Hubby chose the spicy chicken shawarma, and he said it's delicious! He enjoyed it so much that he ate the 12-inch chicken shawarma pita all by himself.
12-inch Chicken Shawarma Wheat, Php135.00
Because I want a healthier bread, I ordered chicken shawarma with wheat bread. I also opted not to have the spicy variant so our 6-year-old son could try it, too. The first thing I noticed when I had my first bite was that the wheat bread was crispy. That's because it was grilled on a panini maker. They also have two kinds of sauces for the shawarma: lemon sauce and spicy sauce. Hubby and I both liked the lemon sauce on our chicken shawarma. Next time, I would like to try their salmon shawarma.
Turkish Yogurt (Mango and Strawberry), Php50.00 each
One of the staff told us to try one of their healthy drinks, the Turkish yogurt, so we ordered mango and strawberry. Our son found the strawberry yogurt a bit too sour, but I liked it. Hubby said the mango yogurt was yummy!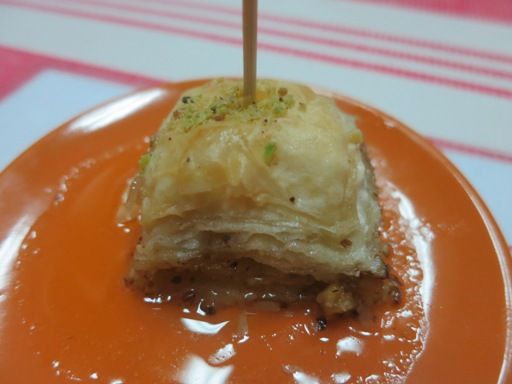 Baklava, Php50.00
Baklava is a dessert made of phyllo dough with honey, walnuts and pistachios. This was okay, but I'm not really a dessert person, so the chicken shawarma was enough for me.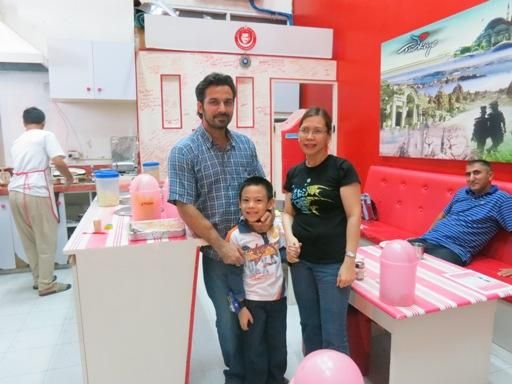 Incidentally, the owner of Jacob's Shawarma, Jacob Cortes, was there when we dropped by. He was kind enough to pose with us in a souvenir photo. He also said that he is there (at Jacob's Shawarma) 19 hours a day every day. Jacob's Shawarma is open 24 hours a day from Mondays to Saturdays.
Jacob's Shawarma
Unit 115 AIC Grande Tower
Sapphire Road, Ortigas Center
Pasig City
Telephone No.: (02) 227-7686
Cell phone No.: 0939 403-4306
Email: jacobshawarma@yahoo.com