A media luncheon was held at W Global Center in Bonifacio Global City (BGC) yesterday to officially make P.F. Chang's second branch in the Philippines open to the public. Guests were welcomed by two terracotta horses and were served delicious and authentic Chinese fare.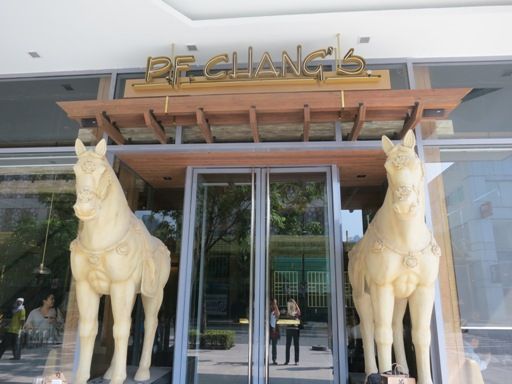 Because I was there an hour before the event was supposed to start, I was able to take pictures of the first and second floor interiors and to talk with Mr. Ronald "Jam" Olaes, P.F. Chang's Operations Director. According to him, P.F. Chang's BGC branch has five hand-painted Chinese murals which were all imported from the U.S.
Restaurant Interiors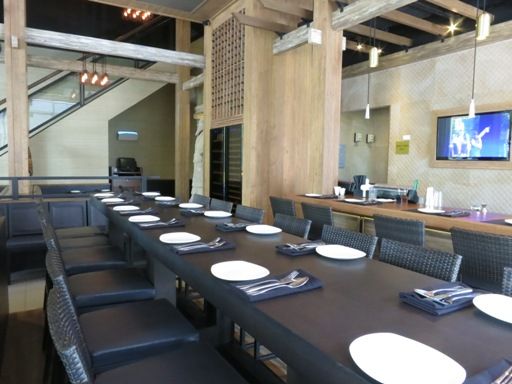 1st floor interiors
By combining classic Chinese design and modern bistro, they made the interiors of the latest P.F. Chang's restaurant a little more outdoorsy.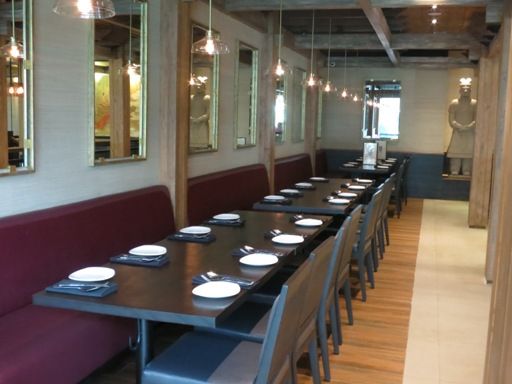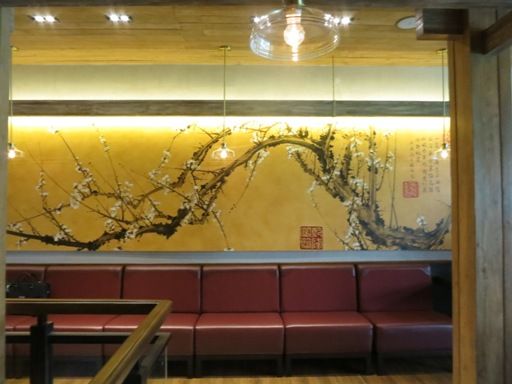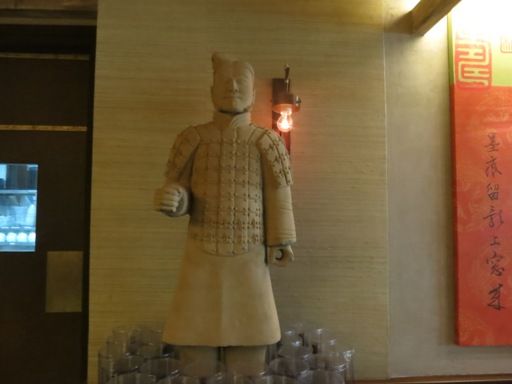 2nd floor interiors
P.F. Chang's in BGC can seat around 150 guests. It also has two function rooms for private dining, cocktail tables and a 12-seater high table for those who would like to enjoy its bar flair.
Mr. Ronald Olaes, P.F. Chang's Operations Director
Mr. Olaes sat at our table to talk more about the new P.F. Chang's restaurant and to answer questions that the quests might have. Then, a sumptuous lunch was served.
Appetizers
Five appetizers were served on our table, and they were: Chang's Chicken Lettuce Wraps, Seared Ahi Tuna, Dynamite Shrimp, Pork Dumplings and Crab Wontons.
Chang's Chicken Lettuce Wraps
Chang's Chicken Lettuce Wraps were hands-down my favorite appetizer. These consist of minced chicken with mushrooms, green onions and water chestnuts served over crispy rice sticks. You put everything inside the cool, crisp lettuce cups and eat. It was really tasty!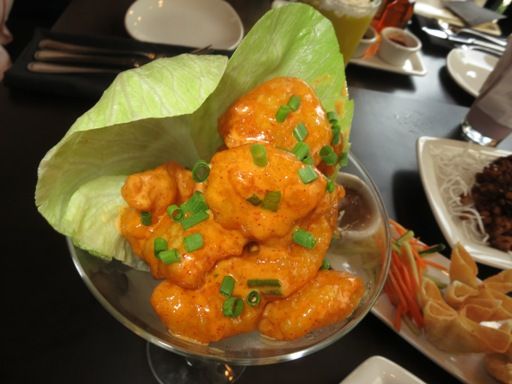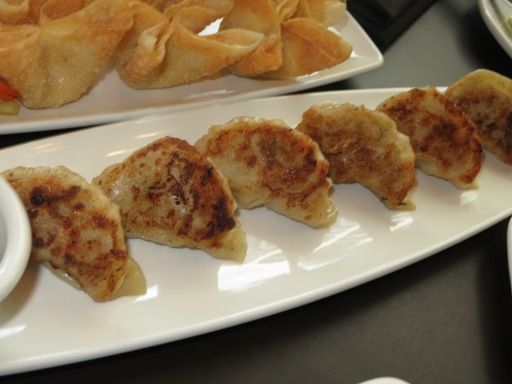 Clockwise: Seared Ahi Tuna, Dynamite Shrimp, Crab Wontons and Pork Dumplings
I also enjoyed the crunchy Crab Wontons, the spicy Dynamite Shrimp and the flavorful Pork Dumplings. The Seared Ahi Tuna was my least favorite appetizer.
Main Course
For our main course, we had Sichuan-Style Asparagus, Lo Mein, Chang's Spare Ribs, Shrimp with Candied Walnuts, Mongolian Beef and Chang's Spicy Chicken.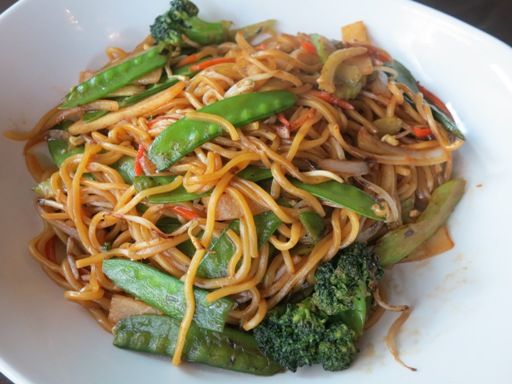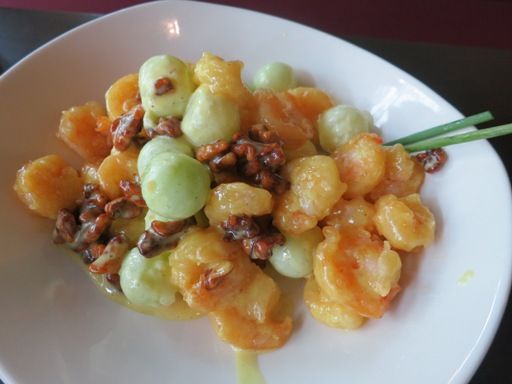 Lo Mein and Shrimp with Candied Walnuts
These were my Top 2 favorites. The Lo Mein had lots of fresh and crisp vegetables mixed with the slightly sticky stir-fried egg noodles. As the name suggests, Shrimp with Candied Walnuts had shrimp and candied walnuts plus honeydew melon mixed in a creamy sauce.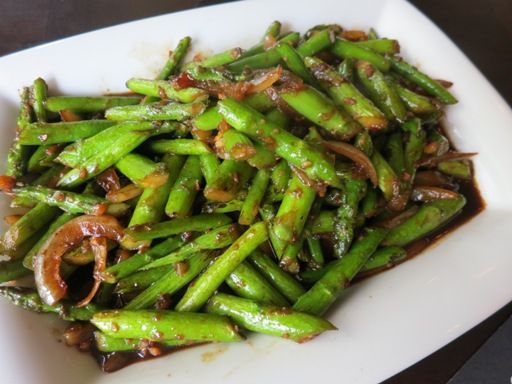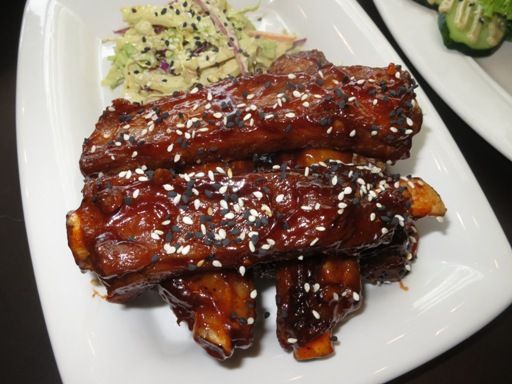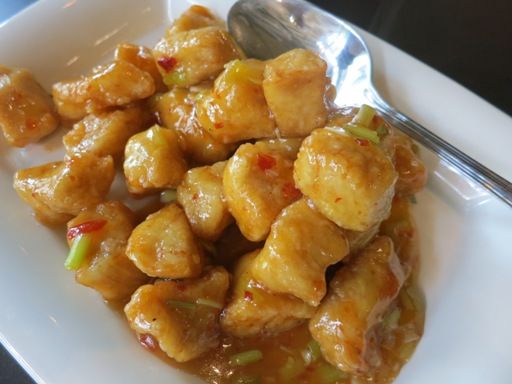 Clockwise: Sichuan-Style Asparagus, Chang's Spare Ribs, Chang's Spicy Chicken and Mongolian Beef
The Chang's Spare Ribs were okay, but I liked their
Northern Style Spare Ribs
better simply because I'm not really fond of sweet dishes.
Desserts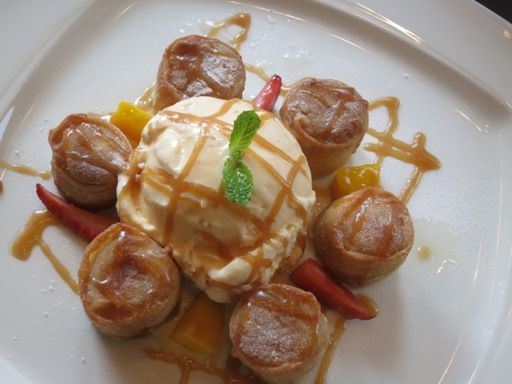 Banana Spring Rolls
These were crispy banana bites served with coconut-pineapple ice cream and drizzled with vanilla and caramel sauces. The waiting staff told us that they used lakatan banana here, instead of the usual saba banana. Everyone in our table liked the ice cream, but most of us still preferred saba bananas over lacatan bananas for our banana spring rolls.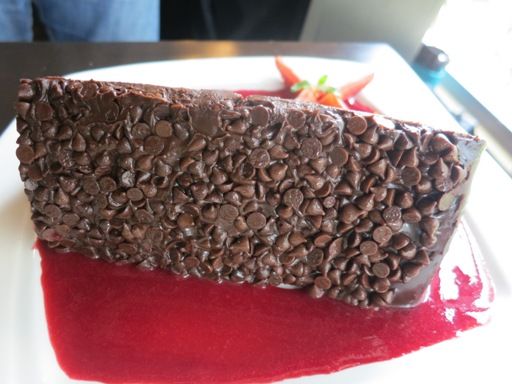 Great Wall of Chocolate (front view and back view)
Those with a sweet tooth will surely enjoy this big block of moist and rich chocolate cake. I had a little of this plus the strawberries.
Smoothies and Cocktails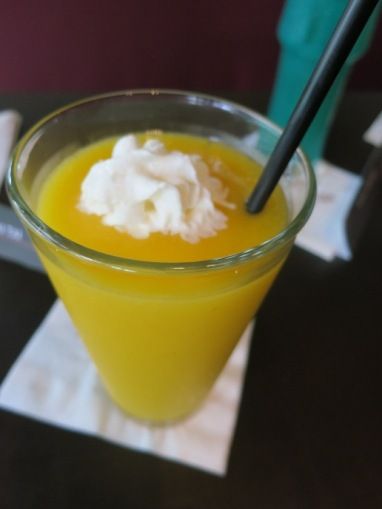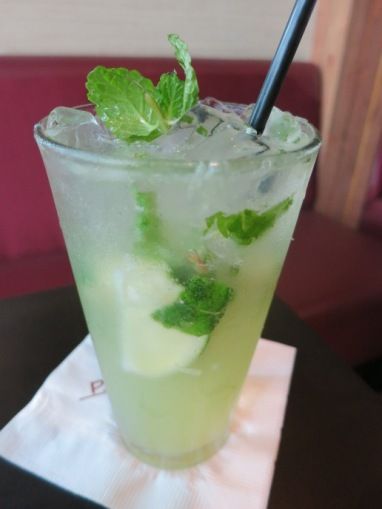 Clockwise: Ripe Mango Smoothie, Strawberry Passion, Chang's Mai Tai, Royal Poolside and Asian Pear Mojito
I did not try any of their cocktail drinks. I had a smoothie instead.
Mango Peach Mint
I love P.F. Chang's smoothies! The Mango Peach Mint was delightful and refreshing. I haven't had the chance to try their Strawberry Passion, though, but it looks appetizing, too.
Warrior Deal Promo
P.F. Chang's also launched its Warrior Deal promo during the media luncheon.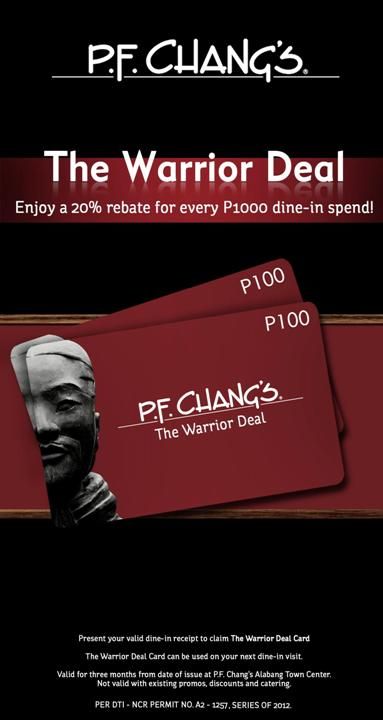 Warrior Deal cards
On February 10 (Chinese New Year), customers will get a 20% rebate for every Php1000 dine-in purchase in the form of two P100 Warrior Deal cards. Guests can avail of this rebate on their next visit to P.F. Chang's.
P.F. Chang's
W Global Center
Bonifacio Global City
Telephone No.: (02) 664-5956