I finally had the chance to try Adobo Connection last Saturday. That was before I did my grocery shopping. I've been meaning to visit this place since it opened in Robinsons Galleria, but Adobo Connection never seems to run out of customers. The place is always full, so I wasn't able to have a sampling of their food offerings sooner.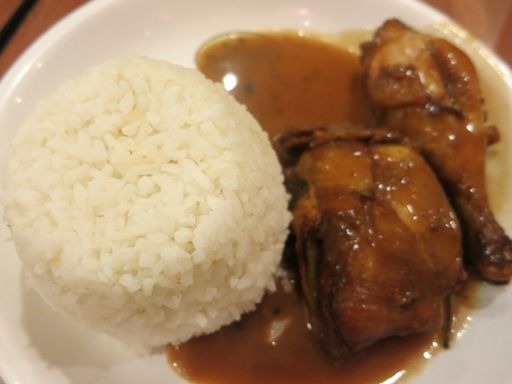 Chicken Adobo sa Gata, Php125.00
I prefer chicken over pork, and I love dishes with
gata
(coconut milk), so this is what I ordered. You can have all of their dishes as "Solo" or "Go Sulit." Because it's my first time, I opted for "Go Sulit." For only Php125.00, you have a generous serving of chicken or pork adobo with soup and unlimited rice. Not bad! The first thing I noticed about this Chicken Adobo sa Gata was that the chicken parts were big. If you're not a big eater, you can actually get a "Solo" order of this, then split the chicken parts between you and your companion. The rich coconut milk and the flavorful adobo sauce blended perfectly with a hint of sweetness. I loved this, but what I noticed when I was almost done eating was that there was a small portion of the chicken leg that needs more cooking. Other than that, the taste was okay.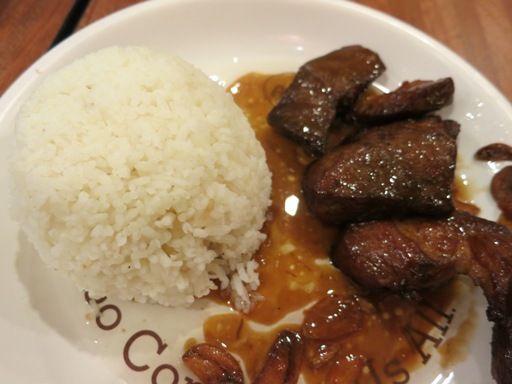 Kuya's Fried Pork (Go Sulit), Php125.00
I ordered this for Justin's
yaya
. Again, there's a generous serving of pork here. The fried pork adobo was seasoned just right, but according to Justin's
yaya
, there were pork pieces that were a little hard to chew. She finished all of it anyway with an extra serving of rice.
Gising-Gising, Php35.00
I wanted vegetables with my meals, so I ordered one of their "Dagdag Sarap" dishes, the Gising-Gising. It's a vegetable dish with ground pork and green beans (Baguio beans) and coconut milk. As the name suggests, this vegetable dish will literally wake you up because it's spicy. I was glad I tried this because it was delicious. What's not good is that this Gising-Gising made me eat more rice. Lol!
I'd love to try their Fish and Tofu Adobo next time. Pinoys will surely enjoy eating here because the prices of their food are quite affordable. Aside from chicken, pork and fish adobo, they also have Sizzling Sisig and Beef Kare-Kare. They also offer side dishes like garlic rice, adobo rice, chicken sopas, gising-gising, kare-kareng gulay and fried egg. They also have "affordobo meals," "meryenda specials" and desserts for pocket-friendly prices.
Adobo Connection
Level 1 (beside Mister Donut), Robinsons Galleria
Quezon City