The first IHOP restaurant in the Philippines officially opens its doors to the public today. The Philippines' first IHOP restaurant is located at W Global Center, 30th St. corner 9th Ave., Bonifacio Global City (BGC).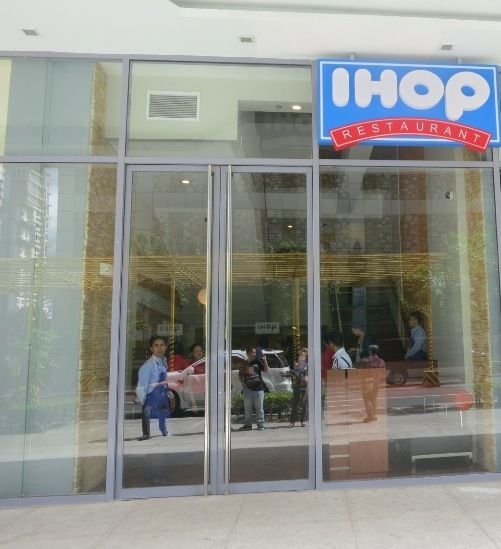 Archie Rodriguez, CEO and President of Global Restaurant Concepts, Inc. says, "We are absolutely thrilled about bringing IHOP to the Philippines and Southeast Asia. We are excited to spread happiness!"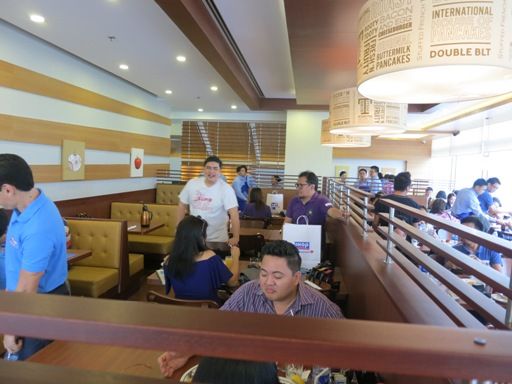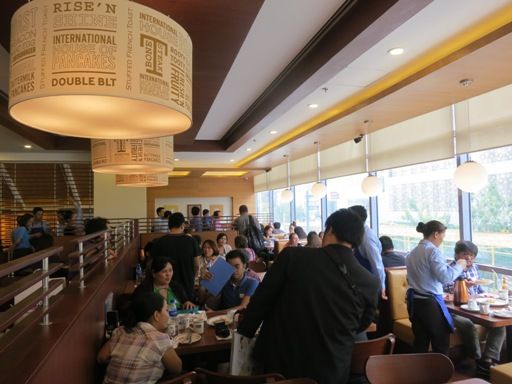 InterDine Corp. and Global Restaurant Concepts, Inc. will open 20 IHOP restaurants in the Philippines over the next five years.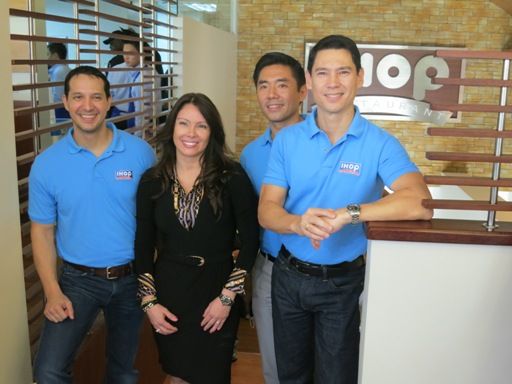 IHOP bosses, left to right: Archie Rodriguez, Ana Hernandez, Griffith Go and Manuel Zubiri
Guests present at the media event last Wednesday were treated to a delicious spread of IHOP's breakfast combinations, omelettes, pancakes, crepes, French toasts and beverages.
Breakfast Combinations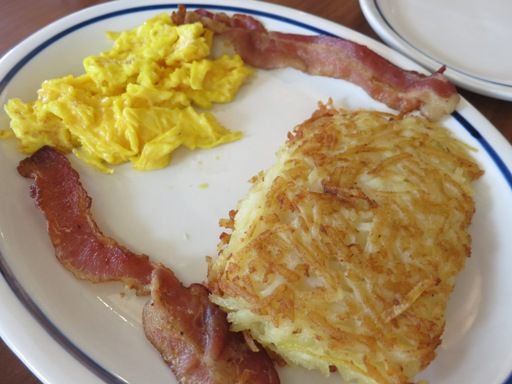 Quick Two-Egg Breakfast, Php295.00
This is called the Quick Two-Egg Brakfast. It has two eggs (scrambled or sunny-side up), hash browns and your choice of two crispy bacon strips or two savory pork sausage links.
Omelettes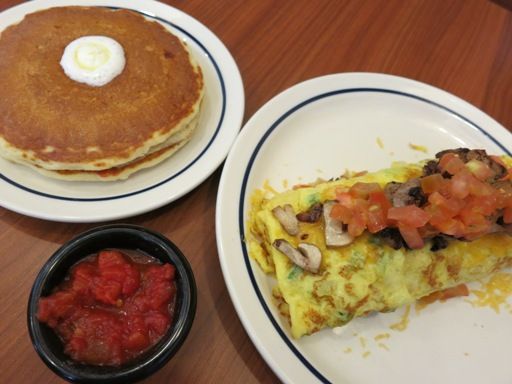 Big Steak Omelette, Php325.00
This is what I liked the most. As the name suggests, it's a big omelette with tender strips of steak. It also has hash browns, fresh green peppers, onions, mushrooms, tomatoes and cheddar cheese, and it's served with salsa. It's absolutely delicious!
Spinach & Mushroom Omelette, Php265.00
If you want meatless omelette, then this one's for you. Spinach & Mushroom Omelette has fresh spinach, mushrooms, onions and Swiss cheese. It's topped with rich hollandaise sauce and diced tomatoes.
Pancakes
Pancake lovers will surely have a wonderful time at IHOP with the various offerings they have.
New York Cheesecake Pancakes, Php285.00
These fluffy buttermilk pancakes are loaded with creamy, rich cheesecake pieces and topped with cool strawberries, powdered sugar and whipped cream.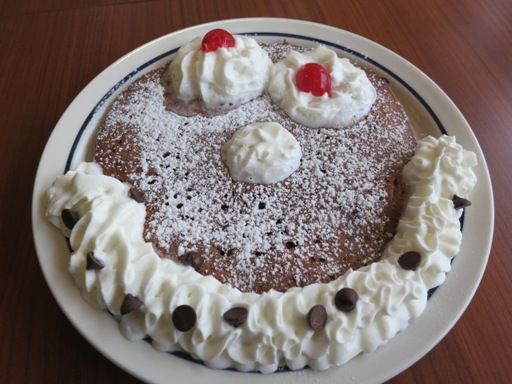 Funny Face, Php165.00
When I showed the picture of this Funny Face pancake to my son, he said he'd have it when we visit IHOP at BGC. It's a big chocolate, chocolate-chip pancake with powdered sugar, maraschino cherry eyes and a whipped topping smile. This is really cute! The buttermilk version is also available.
Cinn-A-Stack Pancakes, Php235.00
I actually liked Cinn-A-Stack Pancakes more with its cinnamon roll filling and cream cheese icing and whipped topping.
Crepes
Garden Stuffed Crepes, Php325.00
This has the same ingredients as the Spinach & Mushroom Omelette, but this is wrapped in thin pancakes.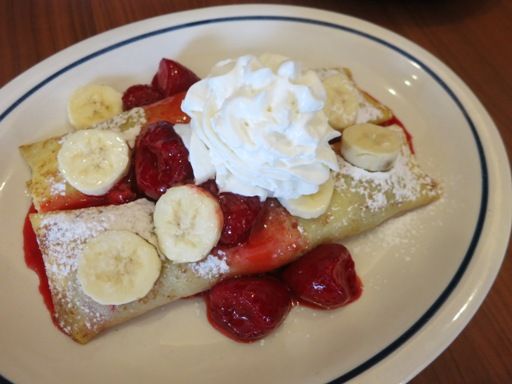 Strawberry Banana Danish Fruit Crepes, Php265.00
The Strawberry Banana Danish Fruit Crepes are for those who want fruits in their crepe. These are crepes filled with cool strawberries and rich sweet cream cheese and topped with cool strawberries, fresh banana slices and whipped cream.
French Toasts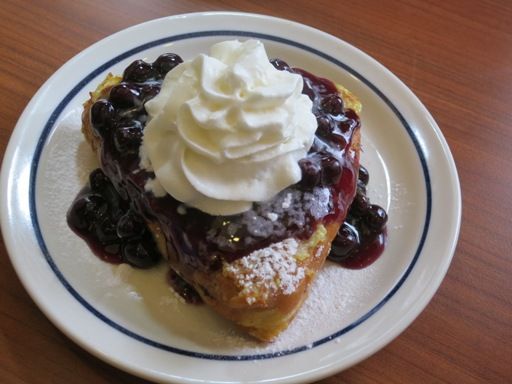 Stuffed French Toast Combo, Php365.00
Stuffed French Toast Combo is a cinnamon raisin French toast with sweet cream filling topped with whipped cream and your choice of cool strawberry topping, warm blueberry compote or cinnamon apple compote. It is served with two eggs, hash browns and your choice of two bacon strips or pork sausage links.
Drinks
IHOP BGC offers coffee, soda and soft drinks, freshly brewed iced tea and IHOP Splashers.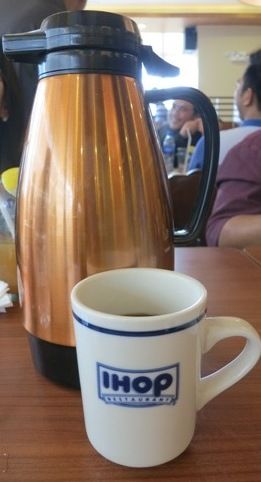 Never Empty Coffee Pot, Php125.00 per person
For only Php125.00, you'll get unlimited regular or decaf coffee.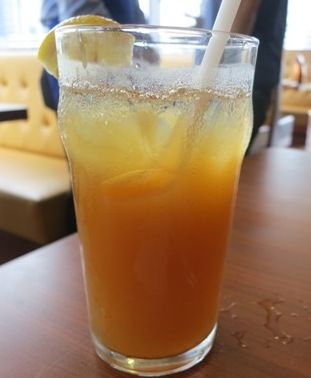 Brewed Iced Tea, Php95.00
I would have wanted to try their IHOP Splashers, but I settled for the Brewed Iced Tea instead. I woke up with an upset stomach, and I figured Brewed Iced Tea was a safe choice.
IHOP at BGC is open from Sundays to Thursdays from 6am to midnight and open 24 hours on Fridays and Saturdays.