After spending more than 3 hours at Rockwell's Hoppy Hunt, we were famished. We were also quite tired already, so we decided to just buy something to nibble on while going home. We dropped by BreadTalk and bought five different kinds of bread for three adults and one kid. We bought five because the little boy wanted two breads for himself.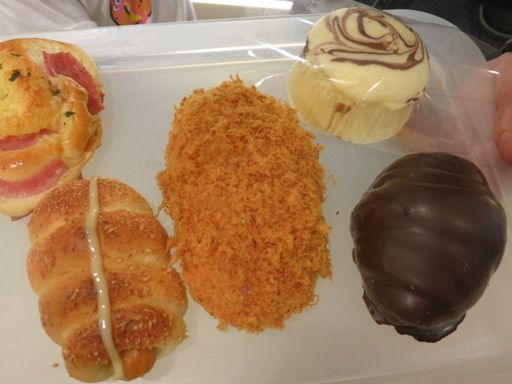 From left to right: Beck Ham and Cheese (Php40.00), Parmesan Sausage (Php40.00), Hot Chic (Php54.00), Marble Steamed Cake (Php36.00), Triple Chocolate (Php40.00)
BreadTalk breads are a delight to eat because they're very soft. Hubby liked his Hot Chic; it's called as such because it's slightly spicy. I also enjoyed the tasty and filling Parmesan sausage. The little boy said the Triple Chocolate was yummy; I guess that's because it's sweet and chocolatey. He didn't like the Marble Steamed Cake, though, because he said it had no taste. I don't have an idea what he meant by that because I wasn't able to try it. We didn't taste much of the cheese in the Beck Ham and Cheese, but it was still okay.