While looking for a place to eat at Quezon Memorial Circle last March, we spotted a restaurant that piqued our interest. It's called Coconut House, a quaint dining place where all the dishes, desserts and beverages served have coconut as one of its main ingredients. Coconut House is proud of its healthy food offerings; they use coconut oil, coconut butter and coconut meat in their food preparation. We ordered three Binalot meals, namely: Kalderetang Dagat, Gatadobo and Crispy Express, plus Coco Okoy and Kapayapaan Float. All of the Binalot meals were served with brown organic rice and veggies.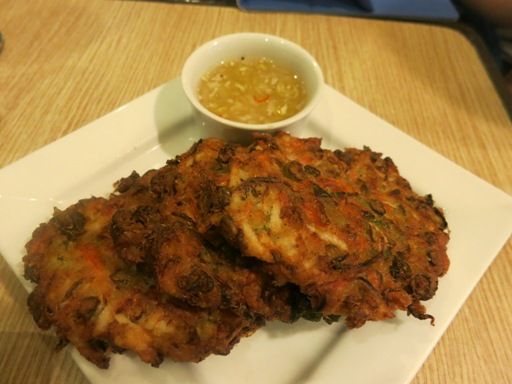 Coco Okoy, Php85.00
These veggie patties called
Coco Okoy
are great appetizers. They're made of coconut, carrots, green beans and sprouts served with spiced coconut vinegar. They can be quite filling, too, so you should not eat a lot of these if you're still ordering other food items on the menu.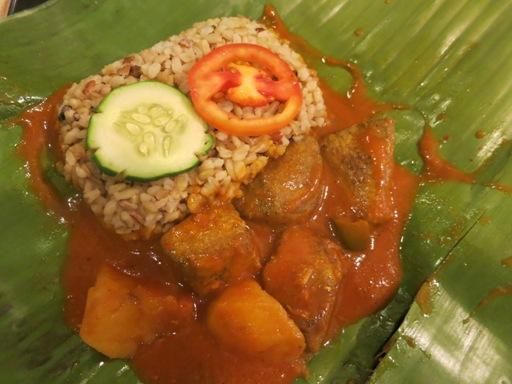 Kalderetang Dagat, Php155.00
Hubby's order was
Kaderetang Dagat
. This is tuna and vegetable stew in coco-tomato cream. As far as I know, we haven't eaten anything with coco-tomato cream before, so this is new as far as our palates our concerned. It's either we have dishes cooked in coconut cream or tomato sauce but not both. The tuna chunks were tender and tasty, but hubby still prefers his kaldereta in tomato-based sauce.
Gatadobo, Php155.00
I shared this
Gatadobo
with my son. This is organic chicken and pork adobo cooked in coconut cream. The sauce was thick and creamy, and the pork and chicken meat were tender. It was an okay meal but not extraordinary.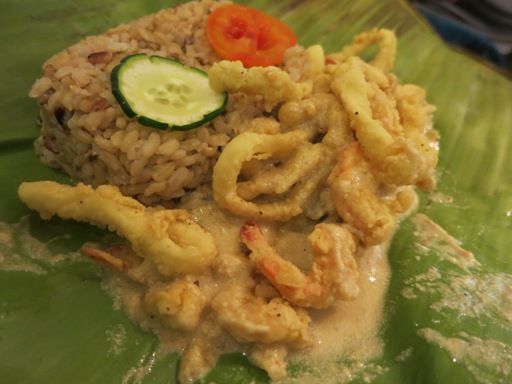 Crispy Express, Php145.00
This
Crispy Express
is Bicol Express with fried shrimps and squid. We ordered this for our helper. She said the spiciness was just right, the squid was not hard to chew which means it wasn't overcooked, and the shrimp was delicious, too.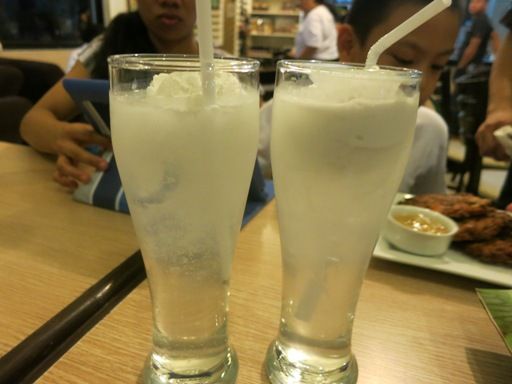 Kapayapaan Float, Php65.00
Kapayapaan Float
is fresh coconut juice topped with coconut ice cream. I thought our little boy would like this because it has ice cream, but he didn't; he's just not used to the taste of coconut juice yet. But I enjoyed this; it was cool and refreshing!
Next time, we'd like to try their desserts. I'm particularly eyeing their Ube Macapuno Turon and their Buko Sherbet Special.
Coconut House
Quezon Memorial Circle
(near Commonwealth Entrance)
Quezon City
Telephone: (02) 392-4115