After checking out from Paradise Island Park & Beach Resort (Paradise Island) at 12noon last April 28, we headed straight to Abreeza Mall to while away time as our flight going back to Manila was still 7 hours away. We had a hard time choosing where to eat lunch, but in the end, Antonio's Bar & Grill prevailed. We ordered Krispy Tuna Belly, Binagoongang Gulay, Buko Durian Shake and Ripe Mango Shake.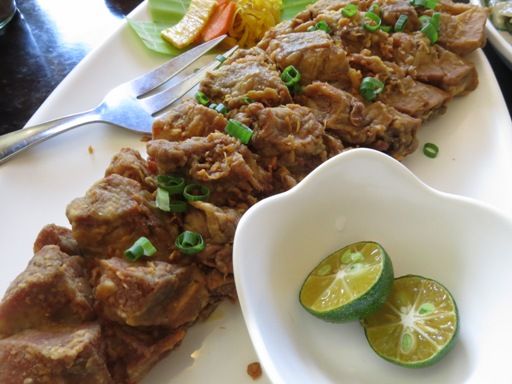 Krispy Tuna Belly (Php80 per 100 grams), Php560.00
This
Krispy Tuna Belly
looks yummy, right? Well, it was! It was crispy on the outside and tasty and succulent on the inside. You can eat it on its own or you can dip it in tangy and spicy soy sauce. Delicious! Even our little boy enjoyed it.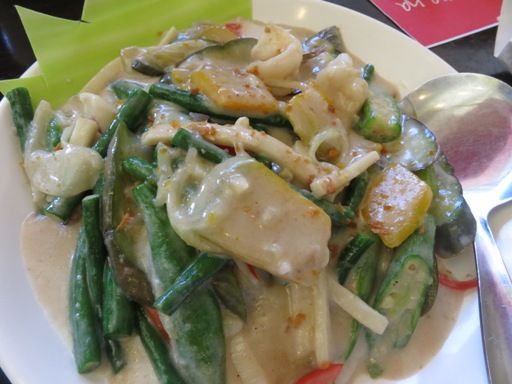 Binagoongang Gulay (Seafood), Php180.00
Binagoongang Gulay
is assorted vegetables (sitaw, squash, eggplant, okra and red bell pepper) sautéed in fermented shrimp with coconut milk. You can order Binagoongang Gulay with pork, mixed meat or seafood. We chose Binagoongang Gulay with seafood; it had squid and shrimps. This was creamy with a slight hint of sweetness and none of the saltiness of the shrimp paste. We liked this, too!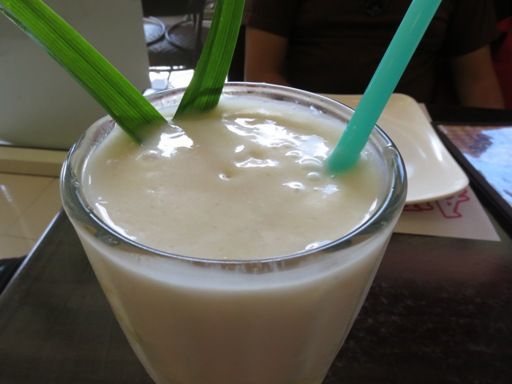 Buko Durian Shake, Php90.00
Hubby wanted to know what durian tastes like, so he ordered
Buko Durian Shake
to satisfy his curiosity. He shared his glass with me because he didn't like it much. However, I liked this Buko Durian Shake more than the Durian Shake I had at Paradise Island because this one was not too sweet. I actually ordered a
Ripe Mango Shake
which I finished in no time because it was refreshingly sweet; I forgot to take a picture of it, though.
That was a hearty lunch we had at Antonio's Bar & Grill. We also enjoyed the service offered by the courteous and friendly wait staff. We'll surely come back to this place when we visit Davao again.
Antonio's Bar & Grill
Abreeza Mall
Davao City