We were at Paradise Island Park and Beach Resort (Paradise Island) in Samal Island, Davao last April 26 to 28, 2013. The entire resort was clean, and we enjoyed the clear blue water and the white-sand beach. We also looked forward to our mealtime because they served delicious food. We had these for our first dinner at Paradise Island: Paella Negra de Mariscos, Pork Sisig and Filipino Style Spaghetti.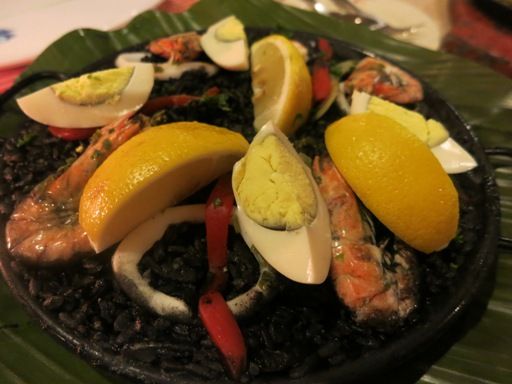 Paella Negra de Mariscos (Extra Small), Php360.00
According to their
website
, Paradise Island's specialty is paella, so we made sure we'd try this. Hubby was particularly drawn to their
Paella Negra de Mariscos
. This is Spanish rice with fillings of fresh fish fillet, shrimps, squid and green and red bell peppers cooked in squid ink, flavored with tangy garlic, olive oil and saffron, and topped with sliced hard-boiled eggs. We ordered this an hour before dinner time because cooking time for this rice dish is 1 hour and 15 minutes. The long wait was worth it because this paella was bursting with flavor. It also had generous servings of fish, squid and shrimps. It was delicious!
Pork Sisig
We paid little attention to the
Pork Sisig
because we were already content with our paella. This wasn't bad, but we've tasted a better pork sisig here in Manila.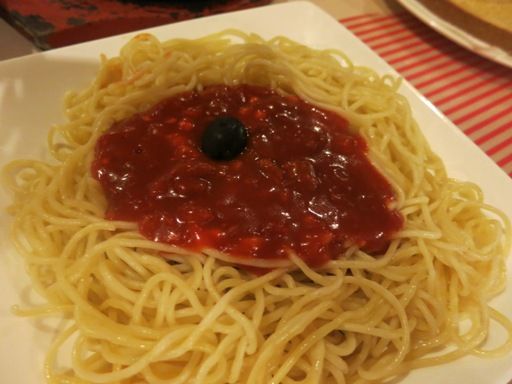 Spaghetti Filipino Style, Php180.00
The little boy wanted pasta for dinner, and the
Spaghetti Filipino Style
was his personal choice. The serving was actually good for two. He said it's delicious and indeed, it was. The al dente pasta was firm to the bite, and the slightly sweet spaghetti sauce passed my son's taste test. He ordered it again for dinner the following day.
Paradise Island Park and Beach Resort
Samal Island, Davao
For inquiries: 0920 9546780
Email: paradiseislanddavao@gmail.com
Website: www.paradiseislanddavao.com