A little more than a month after our last visit to Cajun Red Rock in Robinsons Galleria, we found ourselves flocking to this place again to celebrate Father's Day. We were with my younger sister and my Tatay, Justin's lolo (grandfather).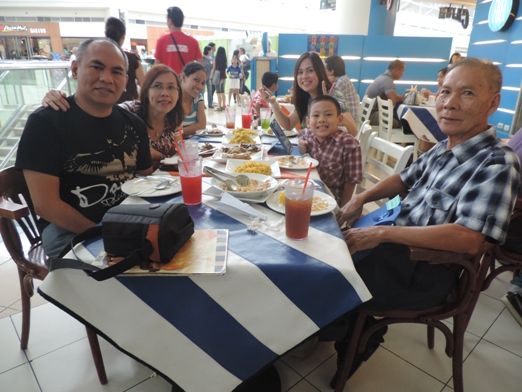 Happy Father's Day to my husband and my Tatay!
Our Father's Day lunch consisted of the following: Bountiful Platter Feast, Roasted Garlic Shrimp Pasta, Creole Chicken Pasta, Saffron Rice and bottomless iced tea. The last one was quite exciting because we were not confined to our original iced tea drink for our refill. Guests will be able to taste Cajun's three iced tea variants if they're availing of this bottomless iced tea offer, which costs Php99.00.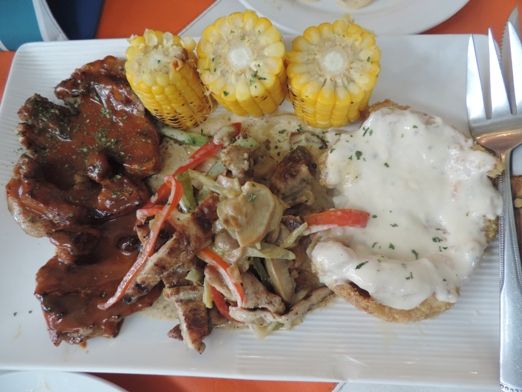 Bountiful Platter Feast, Php640.00
The
Bountiful Platter Feast
is a pork lover's delight. It's a combination of Bourbon chops, cheesy pork steak and chops Alfred served with grilled corn on the cob. The cheesy pork steak (middle) was what I liked the most among the three. That's because I'm a cheese and vegetable lover.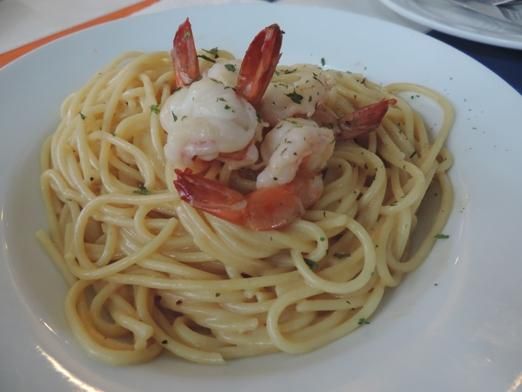 Roasted Garlic Shrimp Pasta, Php270.00
Roasted Garlic Shrimp Pasta
is spaghetti in special cream sauce with roasted garlic and sautéed shrimps. It was our first time to try this pasta dish, and I was actually surprised at how good it tasted despite its simple looks.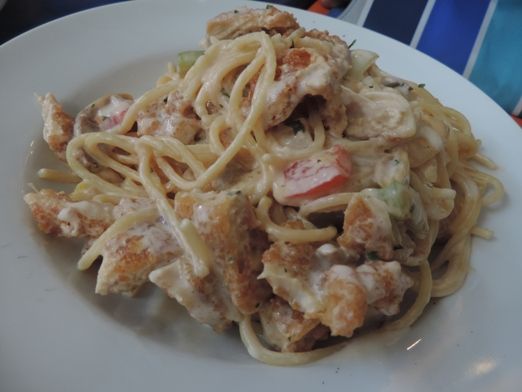 Creole Chicken Pasta, Php250.00
Creole Chicken Pasta
is our all-time favorite pasta here. This is Cajun's signature dish. It's spaghetti with special cream sauce, special Creole flavors and crisp chicken strips. It's creamy and it's flavorful, simply delicious!
We also ordered Saffron Rice for everyone who wanted to pair it with the Bountiful Platter Feast, but I wasn't able to take a picture of it. Overall, we had a hearty and satisfying Father's Day lunch at Cajun Red Rock. Everybody went home happy.
Cajun Red Rock
4th Level, Robinsons Galleria
Quezon City