After 13 hours of fasting, I was finally able to go to Tapa King inside Makati Medical Center for my breakfast last Monday. I had to undergo visual perimetry test and lipid profile test before my first meal of the day can be had, but it was also almost time for my doctor's appointment, so I had to choose a no-fuss breakfast to get there on time. Tapa Lugaw sounded nice and looked easy to eat, so it was the one I ordered.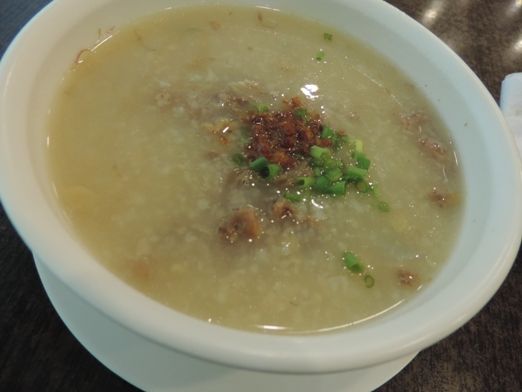 Tapa Lugaw, Php45.00
I thought Tapa Lugaw was a different kind of congee with Tapa King's famous
tapa
(cured beef) as its main ingredient. I looked for bits of tapa in my congee, but I didn't find any, so I asked one of the food servers near my table if their Tapa Lugaw has tapa. He said it has none. Tapa Lugaw is actually Tapa King's version of
goto
(congee with beef tripe). Tee-hee, I guess I was expecting too much!
Anyway, I still enjoyed my brekkie because the beef tripe was tender and flavorful, and the congee was seasoned just right (no need for patis or fish sauce), but I still would like to have my goto drizzled with some calamansi. That is something I failed to ask, or should that be served automatically?