Hubby has been eyeing this lechon restaurant near F1 Hotel Manila when we had an overnight staycation there 10 days ago. When we checked out of F1, we headed straight to Jun & Jun's Cebu Lechon Plaza which is just across the hotel. We ordered ¼ kilo of the famous Cebu Lechon which they call "Tinihik" and their Pochero de Cebu. Cebu Lechon is dubbed as the best-tasting lechon in the country owing to the meticulous choosing of the raw materials used and the way of preparing and cooking the lechon.
Tinihik (1/4 kilo Cebu Lechon), Php210.00
We bought ¼ kilo of Cebu Lechon; they call this
Tinihik
. I was expecting liver sauce for our lechon, but what they had on each table were soy sauce and vinegar that customers have to mix together to serve as dipping sauce for the lechon. I liked the crispy lechon skin. The meat was also very tender and tasty. The serving size was small, however.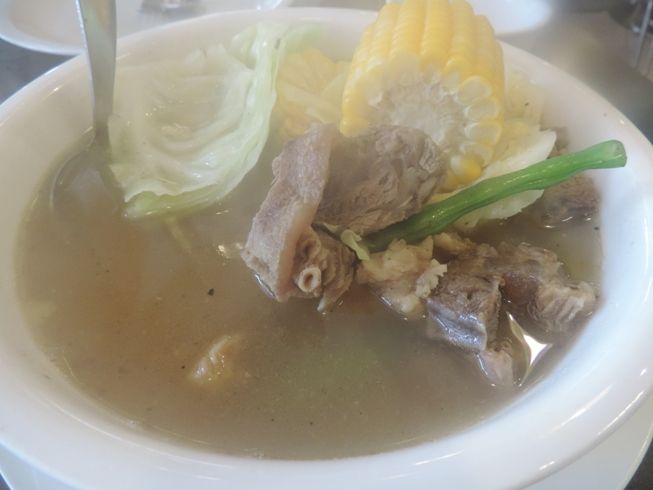 Pochero de Cebu (Php320.00)
Pochero de Cebu
is similar to our Nilagang Baka (Beef Stew with Clear Broth). It has beef, Baguio beans, cabbage and corn. The broth was flavorful, the veggies were nicely cooked, but there were parts of the beef that were a bit sinewy.
Customers can order Cebu Lechon by the plate – Tinihik (1/4 kilo), Butchokoy (½ kilo) or Gastador (1 kilo) – or whole Cebu Lechon from Jun & Jun's Cebu Lechon Plaza.
Jun & Jun's Cebu Lechon Plaza
Ground Floor, DLA Bldg.
32nd St. Justicia Drive cor. Bonifacio Blvd.
Bonifacio Global City
Telephone: (02) 664-5918
Website: www.cebulechonplaza.com