Max's Restaurant, home of the world-famous "sarap-to-the-bones" Fried Chicken, collaborates with Chef Rolando Laudico, one of the most recognized culinary experts in the Philippines today, to serve up Max's Dinner Specials, an opulent array of mouthwatering meals for its avid diners with highly discriminating palates. Here's a list of Max's new dishes that are perfect for friends and families dining together:
Seafood Tinapa Pasta
– Smoked bangus, shrimps and squid are sautéed in extra virgin olive oil, garlic, onions, red and green bell peppers, fresh tomatoes and chopped siling labuyo, then sprinkled with grated Parmesan cheese and thinly sliced fresh basil leaves. This is a must-try for those who like their pasta hot and spicy.
Creamy Chorizo Pasta
–The good, old-fashioned spaghetti recipe is given a delightful kick with Max's creamy sauce of Spanish chorizo sautéed in extra virgin olive oil, garlic, onions and fresh eggs and sprinkled with thinly sliced fresh basil leaves and Parmesan cheese.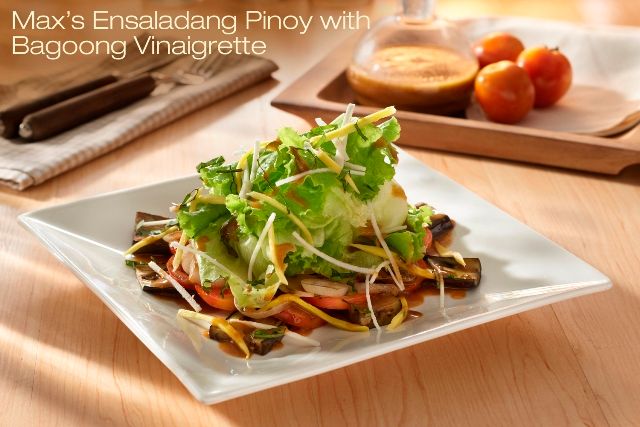 Ensaladang Pinoy with Bagoong Vinaigrette
– Fresh eggplants are grilled perfectly for that smoky flavor and tossed with ripe tomatoes, onions, lettuce, julienned green mangoes, singkamas and basil leaves, then drizzled with sweet and tangy bagoong vinaigrette.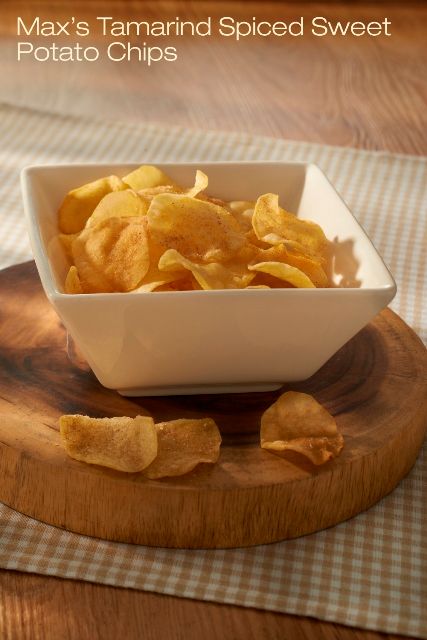 Tamarind Spiced Sweet Potato Chips
– These are deep-fried yellow kamote chips seasoned with savory tamarind spices.
Grilled Salmon Head and Belly
– This is Max's perfectly grilled salmon head and belly immersed in traditional inasal marinade and served with soy vinegar dipping sauce with a zest of atchara.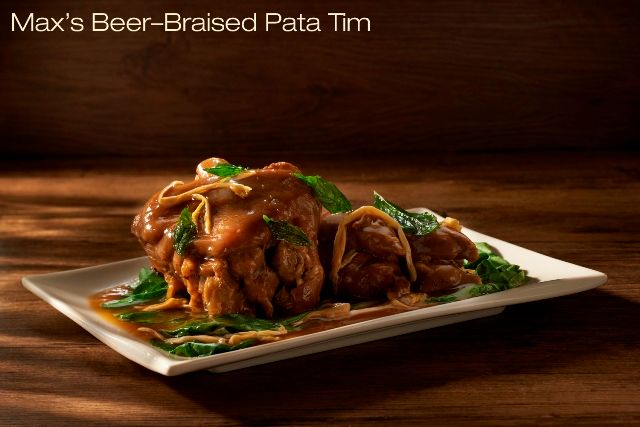 Beer–Braised Pata Tim
– This is a mildly sweet dish of slow-cooked pork pata marinated in savory beer, soy-based sauce, special spices and dried banana blossoms, served on a bed of blanched native pechay and garnished with fried basil leaves.
Adobo Fried Rice
– This is pan-fried pork belly sautéed with garlic, seasoned with adobo sauce, topped with diced salted eggs and fresh tomatoes and sprinkled with chopped spring onions.
Max's new line of dishes adds a touch of elegance to any intimate dinner affair. As Chef Laudico puts it, "Dinner has a unique kind of charm compared to any other meal of the day. It's when we explore palatable flavors while unforgettable moments unfold. With Max's Dinner Specials, we created an exquisite experience for diners, using only fresh ingredients and incorporating traditional methods of food preparation. With these dishes, we want Filipinos to share delightful meals with their friends and loved ones, and re-discover why dishes are not only delectable, but unforgettable as well," shared Chef Laudico.
Drop by selected Max's Restaurants from 6:00 pm onwards starting October 15, 2013 to indulge in Max's Dinner Specials. Check out the latest gastronomic news from the most loved Filipino brand. Visit www.maxschicken.com, the official website of Max's Restaurant, and www.facebook.com/maxsrestaurant to be a member of Max's Facebook Fan Page.