I discovered this Richo Flavoured Squid snack several months ago while doing my weekly grocery shopping at Robinsons Supermarket.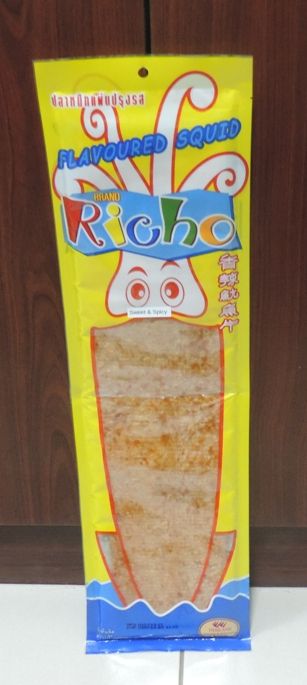 Upon seeing this exciting new product, our 7-year-old son tried it right away, and he really liked it. It's crunchy, sweet and a little spicy. He almost finished the whole pack.
I checked the label and learned that the main ingredients of this flavored squid snack are cuttlefish and surimi. Cuttlefish is a marine animal belonging to the class Cephalopoda, which also includes squid, octopuses and nautiluses. Surimi, on the other hand, is a paste made from fish or other meat.
Richo Flavoured Squid is a product of Thailand that is exclusively distributed in the Philippines by FudFash, Inc (932-9279).