It is a known fact (to my family at least) that I intentionally don't buy chocolates whenever I do my grocery shopping. That's because I really believe we can live without chocolates at home. Yes, I'd get chocolate-flavored cookies or cupcakes for my son, but those are the closest to "real" chocolates that you'll see in my grocery cart. Chocolates in our fridge are usually gifts from friends.
Our 7-year-old son actually has a regular supplier of chocolates, our dear neighbor Mr. Fu (Me ganon?). We first met Mr. Fu in 2010. I remember asking him to pose for a picture with my son who was only 4 years old then, and he gladly obliged. After that, we would occasionally see each other in the elevator or in the hallway, but those times are so rare now probably because he's very busy with work. He's a really nice guy, no airs at all! Anyway, this post is about the most recent chocolate bar that Mr. Fu gave my son: Cadbury Dairy Milk Fruit & Nut.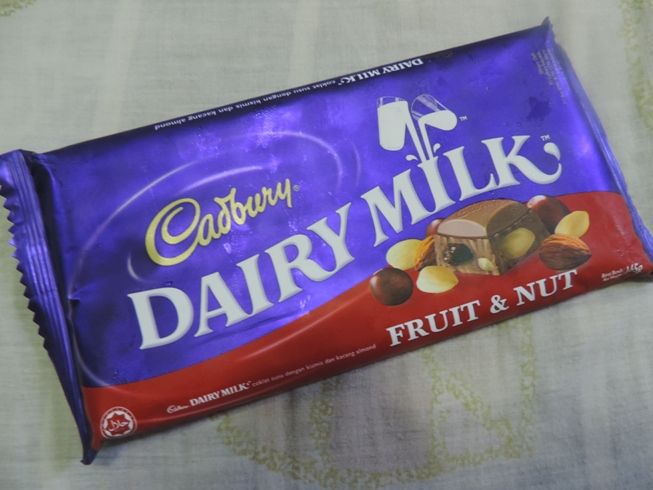 Just like any other kid, my son loves chocolates, but would you believe that he wasn't able to eat this Cadbury chocolate right away? As a matter of fact, he was only able to eat a few slices of it two or three days after Mr. Fu gave it to him. That's how clever this mom is in keeping chocolates out of his sight. Also, I didn't let him finish everything in one sitting, so it took him days to finish the entire chocolate bar. Lol!
So what's the verdict? Our son (and even I) enjoyed Cadbury Dairy Milk Fruit & Nut a lot. The creamy taste of chocolate milk, plus the chewiness of the fruit and the crunchiness of the nut make it a delightfully sweet treat for kids and adults alike.