I discovered Highlanders Brown Rice Tea at Robinsons Supermarket late last year. I was enticed to buy it because of its promised benefits. While I'm the one who buys it, it's actually my husband who regularly drinks this brown rice tea. Hubby suffers from insomnia, but when he started drinking Highlanders Brown Rice Tea, he found it easy to sleep at night. He now gets several hours of restful sleep after drinking two or more cups of this brown rice tea after dinner every night.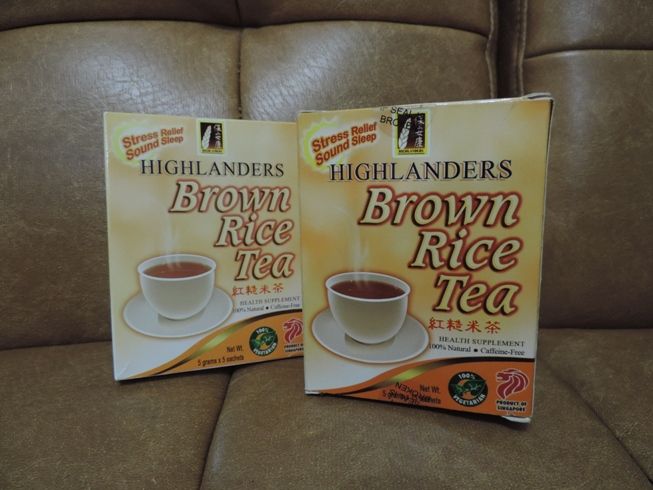 Highlanders Brown Rice Tea (5 sachets at Php143.75; 15 sachets at Php300+)
Ingredients:
Premium Grade Brown Rice, Radix Glycyrrhize, Radix Codonopsis Pilosula, Natural Ingredients
How to Prepare:
Pour boiling water into a cup with 1 sachet of Highlanders Brown Rice Tea. Let the tea sachet stay in the cup for 5 to 10 minutes before drinking, then stir. It's perfectly fine to leave the tea sachet in the cup. You can even consume the contents of the tea sachet for enhanced effects.
What It Can Do:
• It relieves stress and promotes better sleep.
• It reduces night urination within three days if 1 to 2 sachets of Highlanders Brown Rice Tea are consumed before sleep every day.
• It improves "qi" and stamina.
• It stimulates appetite.
• It improves digestion and eliminates bloated stomach.
• It eases constipation, body aches and rheumatism.
• It promotes healthy blood circulation.
• It reduces tummy bulges.
• It improves skin complexion and diabetic condition.
• It complements diet and exercise.
What I Like about It
• It's caffeine-free, cholesterol-free, salt-free, sugar-free and preservation-free.
• It's not pre-cooked.
• It has high fiber content.
• It's 100% natural.
Have you tried Highlanders Brown Rice Tea yet?