Based on her reputation sensationalized by tabloids, it's fair to say that British actress and model Helen Flanagan is no angel but that didn't stop her from appearing recently as a sexy angel for an online bingo advertisement.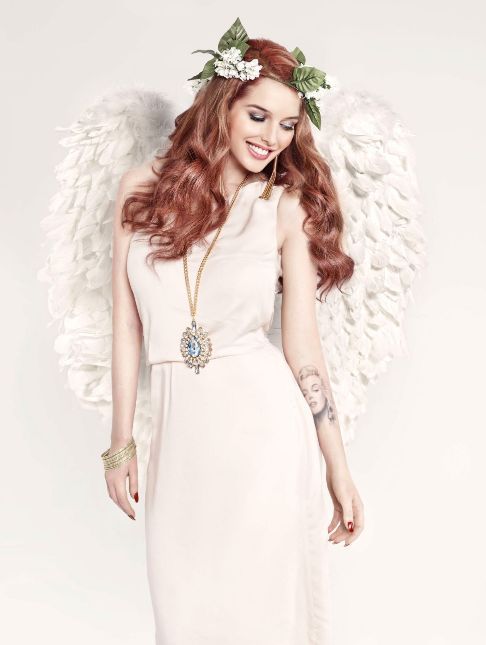 The 23-year-old former
Coronation Street
star has shed her vixen persona to join bingo website
Free Bingo Hunter
as guest god Helena, the Mancunian Goddess of Love. She looked heavenly in a white column dress accentuated by her angel wings, gold jewelry and leafy garland perched on her fiery red hair. Flanagan's trademark pout was replaced by a dazzling smile as she posed with fellow godz Zantos and Shu-Horn in the promotional shots.
The demure photos come weeks after Flanagan debuted her new red locks on Twitter tweeting about how she loves her new hair and how it suits her personality. Well, anyone can be an angel for a day. Here is an angelic recipe that will make you feel heavenly for a day. It is the Food Network's Angel Food Cake as featured in Ten Dollar Dinners.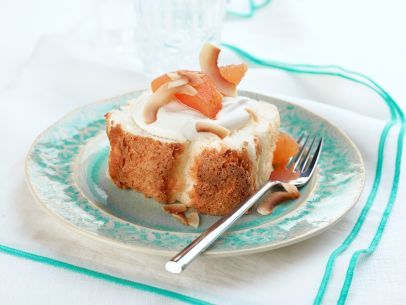 Ingredients:
3/4 cups sugar
1/2 cup all-purpose flour
7 large egg whites
2 teaspoon vanilla extract
3/4 teaspoon cream of tartar
1/4 teaspoon table salt
Sour cream, for garnish
Toasted coconut flakes, for garnish
1 orange, cut into segments, for garnish
Special equipment:
standard size loaf pan
Instructions:
Preheat the oven to 325ºF (162.78ºC). In a spice grinder or mini food processor, mix half the sugar with the flour for 5 seconds. Move to a small bowl and set aside.
In a large bowl, beat the egg whites with the vanilla, cream of tartar and salt, using a mixer on medium, until foamy. Add the remaining sugar (not with the flour) slowly. Beat just until soft, moist peaks form. Add the flour mixture, half at a time, folding in with a rubber spatula until integrated. Pour the batter into the ungreased loaf pan. Bake for 35 to 40 minutes.
Invert the loaf onto 2 cans so that the handles of the pan rest on the tops of the cans, allowing ventilation. After 45 minutes to 1 hour, remove the cake by sliding the knife around the edges. Cool completely and slice with a serrated knife. This recipe makes 4 to 6 servings.