The first Modern Shanghai restaurant we visited was at SM Mall of Asia (SM MOA), and that was 9 months ago. When we had an overnight staycation at Dusit Thani Manila recently and was looking for a good place to eat, we found a newly opened Modern Shanghai branch at Glorietta 2, and that's where we had our very late lunch.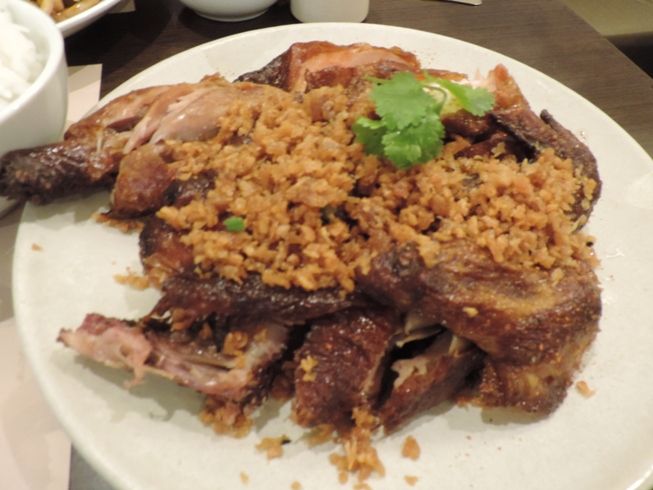 Deep-fried Crispy Chicken with Crispy Garlic, Php688.00
Hubby was quick to notice that this
Deep-fried Crispy Chicken with Crispy Garlic
was similar in appearance and taste to Crispy Pata. the only difference is that it used chicken instead of pork knuckles. We were hooked after our first bite. It tasted just as good as the usual Crispy Pata, garlicky and flavorful, and the chicken skin was really crispy, too.
Fried Shanghai Noodles with Seafood, Php348.00
What we like about this
Fried Shanghai Noodles with Seafood
was that it was seasoned just right, not too overpowering like their Signature Shanghai Fried Noodles that we had at the SM MOA branch. That made us relish this noodle dish more and our Deep-fried Crispy Chicken with Crispy Garlic. They perfectly complement each other.
Passion Fruit Lemonade, Php178.00 and Green Tea Smoothie, Php178.00
Passion Fruit Lemonade
is a mixed drink made of jasmine tea, pink guava, lime juice, soda, pink lemonade and passion fruit. Those black seeds inside the glass (plus small strips of fruit at the bottom of the glass – not visible in the picture) were sure indication that they used real passion fruit in this exotic tropical drink.
Green Tea Smoothie
is green tea with coconut milk and sweetened red beans. Hubby said the sweetened red beans reminded him of
buchi
(red bean sesame seed balls), and that made him feel like he was having desserts already. Lol!
It was a very pleasant late lunch. Before going back to Dusit Thani, our son requested for J.CO donuts, but that's another story.
Modern Shanghai
3rd Floor, Glorietta 2
Ayala Center, Makati City