It was our first time at Florabel Restaurant at The Podium. Hubby saw it featured on Kris TV, and that's where he suggested we have dinner last April 26. Florabel, a fine-dining restaurant that offers Filipino and Continental dishes, is owned and operated by multi-awarded chef and restaurateur Chef Florabel Co-Yatco. Chef Florabel is the woman behind other famous restaurants in the country, like Crisostomo, Elias and Corazon among others. The cozy and relaxing atmosphere of Florabel was quite a pleasant surprise. The waitstaff were courteous and attentive, too.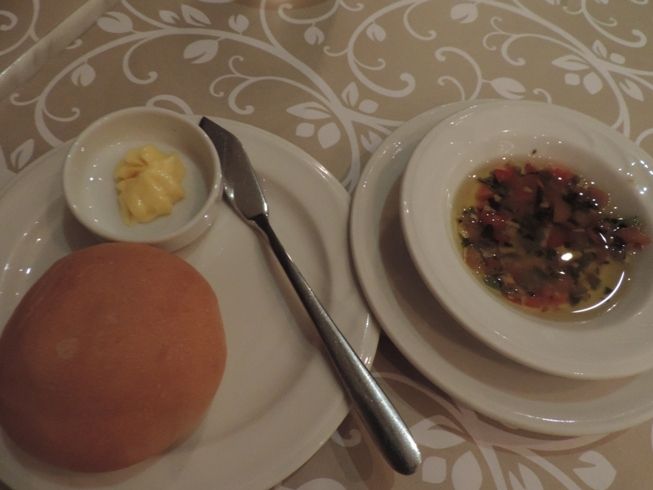 Freshly baked bread with a special dip, compliments of the house
While waiting for our orders, we were served
freshly baked bread with butter and a special dip
. Our son enjoyed the still warm bread slathered with butter, while hubby and I delighted in dipping the bread in olive oil mixed with thinly sliced green and red bell peppers and tomatoes, crushed black pepper and parmesan cheese.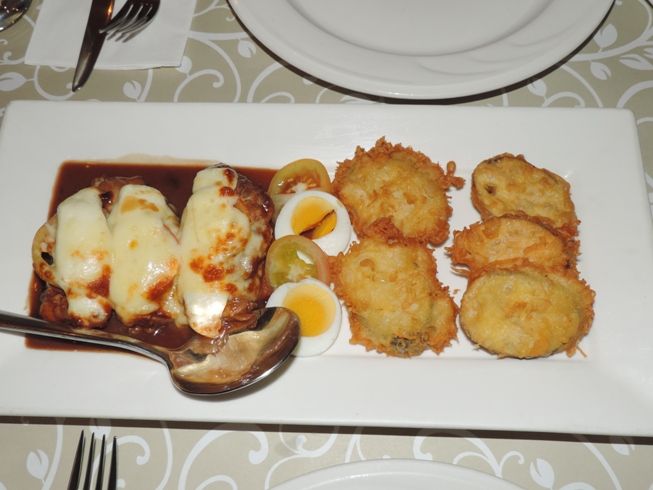 Adobo a la Florabel, Php425.00
Adobo a la Florabel
is Chef Florabel's award-winning chicken adobo. What's different about this chicken adobo is that it uses boneless chicken which had generous kesong puti toppings. The tender and well-seasoned chicken adobo was already delightful by itself, but the melted kesong puti made it even more palatable. Our son liked kesong puti very much that he wanted it all to himself. Lol! This chicken adobo likewise comes with tomatoes, sliced hard-boiled eggs and breaded eggplant, which was sweet and juicy. You've got to try this!
Pinakbet, Php325.00
Florabel's
Pinakbet
is another hearty treat. Assorted native vegetables, like string beans, squash, ampalaya, eggplant and green chili pepper, are deliciously topped with crispy lechon kawali chips. We loved this!
Mango Crème Torte, Php225.00
For dessert, we heeded the suggestion of our food server to have
Mango Crème Torte
, mangoes and cream on a Graham cookie crust. It had just the right amount of sweetness, which hubby and I liked, plus we both absolutely adore ripe mangoes, so it was the perfect choice for us.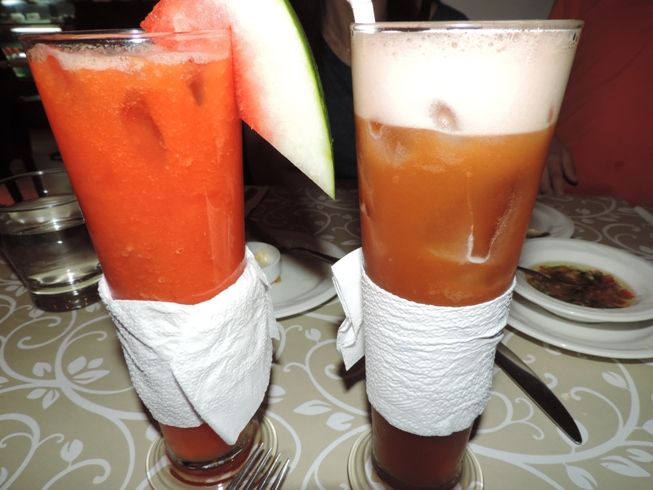 Four Seasons Fresh Fruit Juice, Php180.00 and Blackberry Iced Tea, Php150.00
Both drinks (
Four Seasons Fresh Fruit Juice
and
Blackberry Iced Tea
) were quite refreshing.
We love the food, the accommodating staff and the cozy ambiance at Florabel, and we would love to dine here again soon.
Florabel Restaurant
Ground Floor, The Podium
Mandaluyong City