While I'm not very fond of sugary treats, I also give in to sweet temptations every once in a while. Our love of food and eating has taken us to various restaurants, food stalls, night food markets, etc., and have led us to discover tempting foods. I've written about most, if not all of them, in this food blog. And while I don't have a sweet tooth, there are desserts that I really enjoy and vividly remember and would love to have again. Here's a list of my Top 5 desserts in the Metro.
Banana Blast by Cara Mia Gelateria, Php128.00 (slice) and Php880.00 (whole)
Banana Blast
is a gelato cake made by
Cara Mia Gelateria
. It combines the delightful flavors of banana, strawberry and chocolate gelato on a chocolate-flavored crust. I'd like to call it banana split with a twist! I first had this in 2011 when a slice cost only Php95.00. It's priced a little higher now, but that won't stop me from having it again. I really love this!
Caramel Flan con Hielo by Icebergs, Php128.00
Who wouldn't love this
Caramel Flan con Hielo
by
Icebergs
? It has creamy leche flan, chewy macapuno balls, sweetened plantain, ripe mango cubes, a scoop of vanilla ice cream, cherry and delicious caramel sauce. It's heavenly!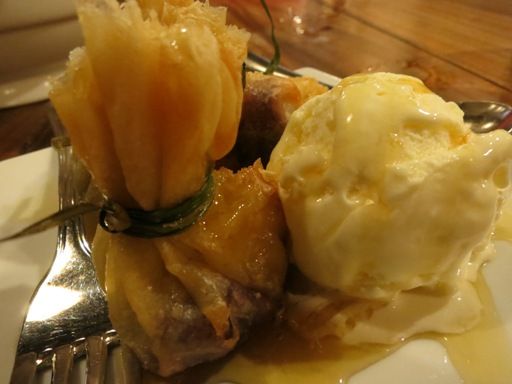 Sin-Turon by Kabisera ng Dencio's , Php135.00
Sin-Turon
by
Kabisera ng Dencio's
has all of these wonderful ingredients that I like: sweetened plantain, ube, langka and macapuno ice cream. This leveled-up turon is simply irresistible! The presentation is really lovely, too!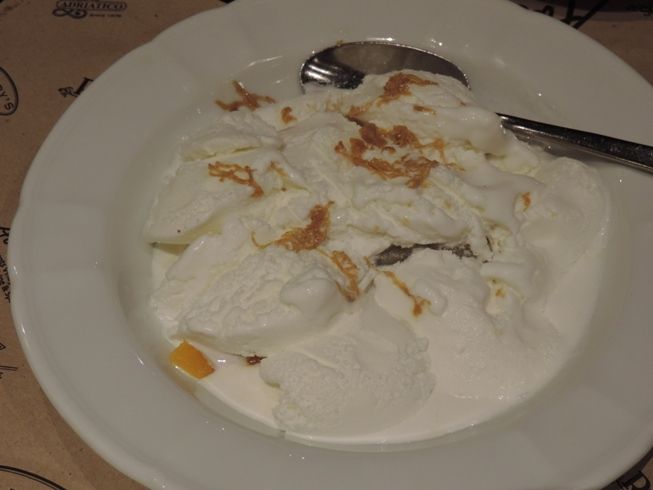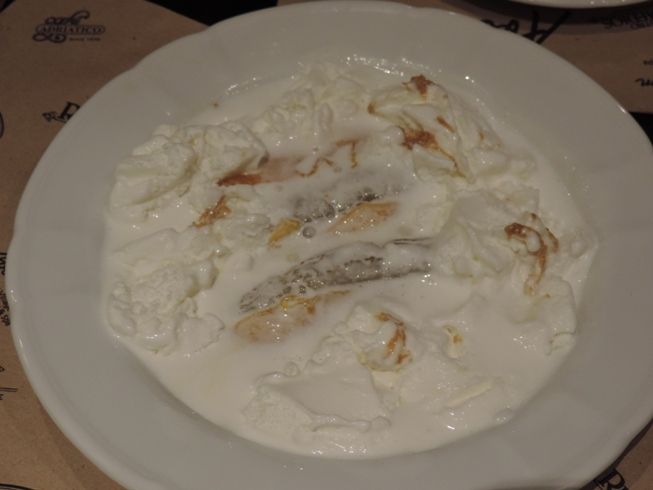 Sikreto ni Maria by Abe, Php165.00
Oh, the memory of this delightful treat from
Abe
is still fresh in my memory! As the name suggests, there's a secret hidden underneath this yummy dessert. Hidden inside the sweet and creamy macapuno ice cream are sweet and juicy ripe mangoes and sweetened rice cake.
Sikreto ni Maria
is definitely a must-try!
Halo-Halo by Fresh, Php250.00
This one's a recent discovery. I was able to try this
Halo-Halo
by
Fresh
last April when we went to Solaire Resort & Casino for the
Bloggers Dessert Experience
. What's special about this Halo-Halo is that it contains ingredients not normally found in the traditional Halo-Halo, like ube spread, buko pandan, guyabano parfait, marshmallows and yema. Add macapuno strips, ube ice cream, leche flan, milk and pandan-flavored crushed ice to all of these unique ingredients and what you have is one summer dessert that's both delightful and unforgettable.
After finishing this list, I realized that I like cold desserts, and if you noticed, all five desserts have ice cream on them, too. What about you? What are your favorite desserts?